Last week's colors were the first pair in the system, 1. Red Red. This week we've jumped clear to the end with 48. Black White Purple. If Red Red had me thinking about the beginning of cycles and Infrared, this one immediately stirred up the end of cycles and Ultraviolet. Going from 1 to 48 initially induced a bit of whiplash, but ultimately I saw it as a continuation, the two together creating a container. There is a theme here of totality, of everythingness, of spectrums, of the whole spectrum.
The other night D was asking a string of "why" questions, in typical kid fashion. Most were pretty rooted in daily life, until out of nowhere she said:
Well. That's a term that gets tossed around casually, blurring the scientific and the spiritual. I didn't really know what context she had heard it in, so I fumbled through a long explanation:
"You know how we live in a city? And that city is in California? And California is in a country, the United States? And the United States is in a continent, North America? And North America is on Planet Earth? And Planet Earth is part of a solar system, with other planets like Mars and Jupiter and Saturn all going around the Sun? And the Sun is a star among all the other stars in the sky that might have their own solar systems? And all those stars are in space? The universe is all of the things in all of space together. The Universe is all of the things that exist, from super big and far away to super close and tiny, like all the cells in your body. The Universe is everything."
"Oh," she replied. Then simply: "I think that The Universe is magical outer space."
The Universe is Magical Outer Space. I mean, that is certainly the way many people use the word.
I use the term "The Universe" pretty liberally myself. I suppose it has filled a hole in my speech where the word "God" used to be. I've moved away from evoking the idea of a god as God for many reasons, yet that doesn't change my need to reference or communicate with a spiritual entity outside of myself. And somehow that spirit does feel like an amalgamation of all things, rendered sentient.
So what is it about the concept of totality that makes it seem holy? How is it that everything that exists when in aggregate is suddenly magical? Or even stranger, how is it that everything that exists would have some sort of authority as a unit?
I'm working on allowing the word "God" back into my speech. Or at least not censoring it. Not because it fits my personal ontology: it doesn't. But it is starting to feel more restrictive not to use it. I have a more pronounced struggle with this in Hebrew actually, where the unutterable, unpronounceable name of God is most often said as "Adonai," which translates to "My Lord." Lord, Master, King: these terms of patriarchal power do not gel with my concept of divinity. But I am quite used to this word "Adonai," and alternatives like "Ruach" for "Spirit" often feel paltry. "The Universe" doesn't feel quite right either.
Maybe this problem exists by design: how could true holiness have a name? Could we just refer to it as The Everything? Maybe it is the Kabbalistic "Ein Sof" that I actually resonate with most: "(There Is) No End." But my initial question remains: what makes Everything holy? Its ineffable oneness? Its boundlessness? Both?
I remember being a kid and having someone try to explain to me that God was everywhere and in everything. "You mean God is in this hamburger? You mean I am EATING GOD??"
All of the Purples evoke the concept of consciousness and its source on an individual level. So perhaps Black White Purple—the ultimate Purple, the penultimate Rainbow Squared color combination—would have us consider a collective consciousness, a collective intelligence. Not just on a human scale, or even a planetary or galactic scale, but a universal scale. A multiversal scale, even.
This is Week Four of the Omer: Netzach, meaning Endurance, Dedication, Eternity. How holiness transcends even the incomprehensible expanse of time. According to Reb Zalman's system, Netzach is the color Yellow. Conveniently, Yellow is the complementary color of Purple. Together they are the power of consciousness. Perhaps the power of infinity. (For more on counting the Omer, see Year 5 Green Green.)
Blessed are you, The Everything, the Magical Outer Space in which, of which, and for which all particles shimmy eternal as one.
Piece Thirteen: 18. Yellow Green
I've always thought of Yellow Green as the Power of Love. This time around I am wondering about the ways that it is Power and Love. If changing that preposition to a conjunction doesn't seem like enough of a difference, we can also call it Love within Power.
Power reveals the ways that even Love can be a privilege. Sure: "can't buy me love!" or "money can't buy happiness." But in reality—or in 2021 anyway—happiness is quite correlated with money. I would guess that access to giving and receiving love is supported by a certain baseline of financial security. Or maybe the Green we are talking about here isn't just Love, it is also Money. So we can talk about Power and Love, and we can also talk about the Power of Money.
Love and loving have always come easily to me. I have many other hang-ups to be sure, but for the most part, I have always been surrounded by people who love me and who I love readily in return. We can chalk this up to many factors. One may be the relative ease and security of most of the adults around me as a child, that no one was truly struggling to stay afloat financially or even in their mental health. For all of their own hang-ups, I still had adults in my life that were able to give me attention, affirmation, and affection. As I moved into young adult life, this also meant I had a financial safety net to go along with that emotional support. Does this mean that these things are necessary or even guaranteed to produce a loving, happy adult? Of course not. But it certainly fucking helps.
I hurt someone recently. Or someone felt hurt by their interpretation of my cumulative actions and after a while the whole relationship just imploded. It's super complicated, and not something I am going to unpack here. While there are many misperceptions that lead us to this moment, there are also some real dynamics that likely extend beyond the relationship in question. Including the ways I can take love and even financial support for granted because I have always had them. So I am chewing on that.
Another quality of love's power is how fiercely it can spin out into hate. Just like there are many kinds of love, there are many kinds of hate. The kind of hate that is spawned by love stings like hell. But if you are able to somehow grip that hate from just the right angle, you can get outside of it enough to regard it. And maybe stare down the sting of that hate until it turns to grief. Then mourning, then maybe release, and then maybe peace.
Whether you are the one feeling or receiving that hate-love, the only way to move through it is to surrender. Feel what you are feeling. Accept what you have done, what they have done, what you can't change. Be present. Be grateful. Be.
Which brings us to counting the Omer. This is Week Four: the sephirah of Hod. Hod is interpreted many ways, including surrender, acceptance, presence, submission. And also splendor, radiance. Hod is the counterpart to last week's sephirah, Netzach. If Netzach is about endurance, Hod balances that with surrender. If Netzach is about eternity, then Hod is about revelation, fleeting as it may be.
Hod is also about humility and gratitude. Accepting your smallness, and also accepting the ways you have missed the mark. Not needing to be right or even righteous, just accepting your role and showing up to it. This paves the way for gratitude, for your place in the universe.
Hod is Orange. Orange is also about many things, including gratitude and compassion. If I were doing Rainbow Squared in order, each color would show up somewhere in the combination at least once every seven pieces. This time, following an emergent order, Orange has shown up only once in soon-to-be fourteen pieces, and it was the one I didn't make.
So I welcome Hod this week, the warm glowing presence of Orange. The full moon was a chance to light stuff on fire and cry, to talk to the moon like it was a portal to a once-loved one's ear, mind, heart. To share gratitude that they will perhaps refuse to hear but might feel. And surrender to the fact that it is time to let go.
Below is a practice that helps me surrender. I've actually already shared this; it was part of my very first piece this year, Green Yellow. It is the meditation that I do to get present for this work, for Rainbow Squared. I realized after I shared it that what I wrote was actually a little different from how I practice it. Which is fine: everything is interpretive, meditate however you want. But since we've come back around to Yellow Green, this seems like a good time to correct the record.
Rainbow Sphere Visualization:
A series of ten full breaths. The first nine out-breaths are a cycle of three visualizations repeated three times with a tenth and final visualization. Sort of like breathing with an ABC-ABC-ABC-D rhyme scheme. First a purple red ray of light going through you up and down, then a blue orange ray of light going through you left and right, then a green yellow ray of light going through you front to back, and finally a sphere of light surrounding you. Maybe numbered steps would help:
1. First, close your eyes and ground. However you choose to do so. Visualizing an anchor into the earth, taking a series of deep breaths, or doing whatever you need to do to get ready to be present.
2. Breathe in, then breathe out while imagining a single shaft of light split into two colors going through you up and down, with purple emanating from your chest up and red emanating from your chest down.
3. Breathe in, then breathe out while imagining a single shaft of light split into two colors going through you left and right, with blue emanating from your chest to your left side and orange emanating from your chest to your right side.
4. Breathe in, then breathe out while imagining a single shaft of light split into two colors going through you front and back, with green emanating from your chest in front of you and yellow emanating out from your chest behind you.
5. Repeat steps 2-4 two more times, ultimately imagining each colored shaft of light three times, for nine shafts of light total.
6. Breathe in, then breathe out while imagining a sphere of light emanating from your chest and bursting out, spreading all around you.
7. Open your eyes, or repeat steps 1-6 as many times as you wish.
Red Purple. Orange Blue. Yellow Green. BlackWhite.
Bodily Wisdom. Creative Expression. Power of Love. Interconnectedness.
Body and Mind. Form and Force. Gut and Heart. Spirit.
Piece Fourteen: 21. Yellow Black White
GUEST PIECE
"Can you do May 5?"
My first response was a very clear "NO."
too busy too occupied too worried too cluttered too anxious...can't possibly.
then the beauty of this request bloomed.
simply Step In and fill this gap. Push a little into my cluttered head and join this intriguing art concept NOW.
Transcend my fears…
Step into the yellow light of
YESSSS.
Get my assignment from ilyse:
21. Yellow Black White.
The Power of Interconnectedness.
Transcendent Yes.
Yellow is power, will, your gut, your solar plexus, the place from which you say Yes.
Black White is transcendence, light, the way it all fits together, beyond the self, interconnectedness.
Observe how the colors come to you.
There is time. Breathe. Simply lean in and enjoy what comes.
A hardware run for a few gallons of paint turns into a deep dive into the wonder of Paint Chips. I am compelled to make a collection, carrying away a huge stack of sample cards, each with an evocative word or phrase for a hundred shades of yellow!!
home again home again jiggity jig!
Up nearly all night in my studio exploring yellow and all things related to yellow. I touch nearly everything search group examine sort remember play mix organize connect to this story of yellow. I collect an amazing array of things. A set of recent yellow paintings center the bits I move in and out of these yellow fields. I capture hundreds of sequenced images in sets of 10 to 25. Working without any real concept or direction, I simply play.
Flow.
Transcend things and time, just being. Letting go.
Big learning in this new creative sequencing, like sketching ideas in seeing and using Flipbook Thinking. Oh so many many many choices!
Ah, Shadows are interesting.
The night ends in a crazed sense of possibilities.
My studio mess, waiting for months, is now transformed.
—
Exhausted but moving through the day. By evening I am fragile.
Fragility comes with profound change.
Chaos of uncertainty.
Space, time, role, generations, "things & stuff"
plus simple body realities.
As the mist clears, I see this exquisite moment of change.
As the mist clears, I see this exquisite moment of change.
I smile.
My heart settles.
Everything will be done.
No pushing.
Kindness.
Forgive.
Beautiful.

Notes from a Yellow Journey
Undertaking this project at this time required a powerful jumping in. Crazy with all that's happening in my life right now but I begin to see that Ilyse's invitation to be a rainbow squared guest artist extends well beyond "art making" and into a sharing of an intuitive search for meaning.
Breathe. Step in.
So I will attempt to use my words and explain this golden yellow light of meaning that is a key in my creative journey.
I have a funny relationship between words and my art. I have always been a pretty good talker. I liked books, dictionaries, thesaurus debates, facts, truths, stories, studies, all of it. My professional life was made successful through my words and abilities to persuade, plan, and organize.
However, when I first dived deep into art nearly 20 (!!) years ago, I aimed to give up words as part of my art practice or at least I tried to set aside explaining and telling and persuading. While my Art making springs from abstract ideas, I have tried to let things emerge without too much brain work and explanation. More simply intuitive, visual line mark makings process
balance flow pattern tension entry point scope scale
light dark.

So my essay began as a visual process oriented mishmash exploring the color yellow with black/white in relation to other realities of my life. Grammar, verbs, punctuation be damned as I played with spacing, fonts, alignment, color highlighting, scale and such, hoping meaning would seep through to the reader. I knew I wasn't really doing the assignment properly but it felt "very janet" and did include the glory of insight embedded in my cryptic notations. I sent my arty draft off to ilyse with the caveat that she could/should send me back to my task. And she did, sweetly and with many words of encouragement and flexibility.
Yellow has a hundred shades of color and meaning as demonstrated by my beautiful paint chip collection. It can be bright and shiny like daisies and morning sunshine. Or mysterious, as the light at the end, of the tunnel, or of life. It is the glory of hope or the scrutiny of investigation. It is also the color of caution. Yellow is one of the three primary colors from which all colors emerge. I use yellow lavishly and I love the way yellow influences other primaries so dramatically. Yellow with blue makes all the greenery of life! Yellow with red adds the glowing embers of fire and sweetness of oranges.
For me, yellow has always reflected the essential glow of life spirit and energy. And I have lived with a robust can-do attitude to possibilities and why not?!. And I have backed it up with action and results. However in the last few years, I have been struggling and finding real limits to my energy. I have become distracted, discouraged and frustrated by working with others. I have been easily overwhelmed with too many things to do. I am muddled and muddied, feeling brittle like an old letter yellowing with time. I realize that I have been becoming "fragile."
My studio all-nighter in search of the meaning of yellow was glorious. But at 65 years old, there is a price to be paid. Until now, fragile was a beautiful word for me that evoked precious treasure, delicate works of art. Now it carries a much darker side. Looking it up is even more disturbing: fragile—easily broken or damaged…"fragile items such as glass and china"..."you have a fragile grip on reality"…"a small, fragile old lady."
Oh my!!
Words listed as similar to fragile include breakable brittle frangible smashable splintery flimsy weak frail insubstantial delicate dainty fine eggshell tenuous vulnerable perilous flimsy shaky rocky risky unreliable suspect nebulous unsound insecure iffy dicey dodgy weak frail debilitated tottery shaky trembly ailing poorly sickly infirm feeble enfeebled.
Quite a list! And quite the Opposite of robust, strong and unstoppable !! It is easy to assume we are indestructible, but one of life's most painful experiences is falling short of your own expectations. Facing these truths about myself gives real pause. Yet now I am smiling. "Less is more" and fragile can become ever more precious.
What is important?
As I found with my studio mess, things in life have accumulated, piled up, gathered dust, and been left for later. The "stuff" of my life is in dire need of sorting, cleaning, and clearing away.  And while I have been working on this for the past few years, big change is imminent with no way to dodge or delay.
This yellowing has elevated this focus on "stuff" and the actions required to address it. So the bright yellow light of scrutiny and truth has come to play and the golden clarity of "importance" is shining on all "stuff" that makes up my life: space, time, roles, "things," and simple body realities. I am now eagerly on task.
Generational Shift & Eldering
We are right now preparing for our oldest daughter and son-in-law to arrive here May 1. They will live with us for at least the remainder of the year. Early summer will bring an extra sweet arrival of the future, a first grandchild. She/he/they mean that everything is shifting into a new era and a lifetime reality of time and priorities are changing before my eyes.
Boom. Boom. Boomers from 1956 and 1950 vintage. I am 65 years old and Dave is 70 ½  and we are edging near to 40 years together. Looking back, time has flown by with passion adventure family community action struggle love hope kindness and effort. NOW. Here we are.
Looking forward, the scale and scope of the view have definitively altered.  Standing inside the infinity pool, I can see right over that edge. It is not endless. As Dave has noted, life expectancy tables give him a decade or so. 10 years!
Yet being in this end of the pool reveals the possibility of another beauty: eldering. I am ready to Step to the side of the infinity pool and become a lifeguard, helper and cheering watcher. I can hand out towels and bring snacks. And this role can be true not only towards my daughters and son and their partners and all potential offspring. It is true for our close circle of youngers including nieces and nephews, and our children's friends, and younger friends of my own.  For me, it stretches to thousands of those I have connected with as artist, mentor, advocate, friend and supporter. And generally widens to rightness, fairness and kindness for all life on earth. I have always admired the idea that actions can be framed by thinking seven generations forward. Drawing on a four generational scale is a good starting place.
Dave and I began 2020 with a commitment to explore our priorities and dreams in this new reality and deliberately frame our time and actions forward with care. Sorting what is important and what is clutter.  Prepare ourselves for a true generational shift in efforts and perspective. Then Covid began and placed everything and everyone in a similar vice grip. A true globalization of perspective.
Yellow light means proceed with caution and care. 
So discern carefully in this time of great change. Know what is important and who or what you are committed to serve. Then put your "stuff" in order and live well.
Yellow + Black/White
Sequence… Segments...Bits to a whole
Transcend Worry thought trying
Generational shift…Eldering
Let go. Let go. Let go.
Flow
Be
Ok
It helped me get a
handle on myself
and my life at an
exquisite moment of change.
Age stamina physicality with a hopeful twist and Generational shift.
Tension and balance between
Outward & Inward
Fear & Action
Time longevity mortality
Begin & End
The brightness of yellow,
in a hundred different shades, each with its own evocative name.
Plus
Nothing is
black & white
yet
Black and white each encompass
everything nothing
and all.

So I offer my essay
poem
mutterings
hieroglyphics
With
love.

Tenderness.
Piece Fifteen: 41. Purple Purple
Purple Purple. Purple Squared. P Squared.
The Purple One, Prince. Purple Rain. Purple Rainbow.
I've been thinking this week about what it means to be "you," to be a self. The whole project of identity and expressing that identity. Musicians I admire like Prince and David Bowie I actually admire for their identities, more for their embodiment of their artistry than their individual compositions. The ways they channeled their beings into creation.
Purple Purple is your inner wisdom, your third eye, the center of your head, your mind, your consciousness, your you-ness. Your woo-ness. Woo Squared.
What does it mean to go deeper and deeper into your inner weirdo? Get crazy? Get nuts?
I am not ready to tell you all about P Squared or about the time I dressed as them for three days in the desert and wrote songs about the end of the world. But I'll tell you that it happened.
I was afraid that motherhood would prevent me from being as weird and as selfish as I might need to be to truly realize my artistic vision. I have tried to claim more of that space with this project, but honestly, it is probably true.
And maybe that's the source of some of my admiration for these gender-fluid male performers. I admire their freedom. Oh, I have no illusions about the toxic bounds of fame and even record labels. But in Prince and Bowie I admire their freedom to cultivate identity like a flower, shedding petals and then emerging as something new. Sometimes I feel like I am some kind of rose holding onto every petal I've ever grown. It's beautiful in its way but it's also a rainbow mess and it's heavy and dismissable.
Sometimes I just want to strut with my shirt off.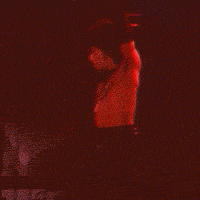 These past two weeks are the last of counting the Omer for this year, Weeks 6 and 7: Yesod and Malchut.
Yesod means foundation, activation, bonding, and identity. It also means Sexuality. Yesod is represented by Red. Last week I refound this clip of Prince performing "Darling Nikki" in 1985. I looked it up because, in clearing out our house to pack up and move all its contents, I discovered a box of no less than fifty porno mags. And yes, they were mine. I had used them to build a costume for my first burlesque performance to the song "Darling Nikki," lining a red trench coat with pictures of naked women. If you know the first lines of the song (which is actually a slut-shaming diss in the movie Purple Rain, but that movie has a lot of problems), then the concept makes sense.
When I had the idea for this porn-lined coat, I knew I didn't actually want to buy the magazines myself. I figured there must be many, many magazines lying around in the world. I looked on Craigslist, and sure enough, someone was giving away a box full: "PLAYBOY MAGAZINES 2002-2014 - PRICE REDUCED!" I was nervous about going to pick them up somehow, so I made Justin come with me and wait in the car. When I got to the door, it was another woman giving me the magazines. A mom even, though I wasn't one myself at the time. We laughed with relief when we saw each other, since each of us had been nervous about an encounter with the other: me wondering who might be giving away all these magazines and her wondering who the hell might be picking them up.
Why am I telling you this story? The whole thing just feels like Yesod to me. Art project collaging porn, Prince twisting his hips, two people bonding over a transfer of goods and the specter of identity. Me dancing burlesque to Prince because I don't want to be with him, I want to be him.
Prince is perhaps the perfect segue between the sixth week of the Omer to the seventh, from Yesod to Malchut, from Sexuality to Sovereignty. Malchut literally means Kingdom. It is about the divine presence in the physical world, or the concept of Shekinah. Malchut is represented by the color Brown.
When I think about the beauty of the physical world and its systems, I think about worms. Wriggling in the earth, the very Earth, living in and creating the soil. Worms are hermaphroditic, each with male and female reproductive organs. Any worm of its species can reproduce with any other worm. These beautiful creatures in the beautiful soil are so easy to dismiss as dirty. But they are the very stuff we are made from, the nutrients in our food, the substrate of our planet.
Purple to Red to Brown. This week we count the final days of the Omer, ending after 49 days with the holiday of Shavuot. Shavuot is the holiday about receiving the Torah, receiving divine wisdom. This week, may we all be vessels for the divine, channels for divine light traveling, traveling, traveling the path of the sephirot:
May we act from a place of lovingkindness (Chesed)
May we have boundaries around our own violent inclinations (Gevurah)
May we see the harmony in all things (Tiferet)
May we endure in the generations-long task of building a better world (Netzach)
May we surrender to the ever-complicated truth and not always being right (Hod)
May we nurture our sexuality and our bodies as the basis for our human connections (Yesod)
May we honor the Earth, the very living and divine system we are just a part of (Malchut)
May we remember that the ends do not justify the means, that if the means are horrific then the ends are a lie anyway. The worms in my worm bin eat our food waste and poop out brown gold, the very richest compost. But I can't feed them just anything: onions, garlic, spicy peppers, citrus, these things would kill them and their environment. The Land of Flowing Milk and Honey, the land reclaimed to give refuge to a perpetually displaced and oppressed people, cannot be built by brutally displacing and subjugating another people.
This journey over the last seven weeks shows how we are each a channel for the divine, how divine light travels through our crown down to the soil. This model is fractal: the way the divine travels through each of us is the way it travels through the world. Right now in Israel and in Palestine the channels are clogged. I don't have a solution, and it certainly doesn't look like anyone else has one either. But maybe this is where Purple Purple circles back around: Purple Purple, P P, P Squared. Pray for Peace. Pray Pray Pray for Peace. Pray for Palestinians. Put down the weaPons. Please Pause the Perpetual Pursuit of Power, the world over.
Piece Sixteen: 27. Green Purple
Strolling down the sidewalk, the kids and I noticed an unusual purple flower. This flower had thin green leaves underneath each petal, emanating from its head like a star. After stopping to admire it, we did what we often do: "Seek it!" Seek is the name of a phone app by iNaturalist where you can identify species in real time. You open the app, hold up your phone camera, and wait for Seek to cycle through the plant's order or family or genus until it zeroes in on its species. Magic.
We learned that this particular flower happened to be tragopogon porrifolious, more commonly known as salsify. Other names include goatsbeard, oyster plant, Jerusalem star, or star of Jerusalem.
Star of Jerusalem.
I mean, here I was, just trying to identify a flower. I noted that it was a Green Purple flower, sure, but I really just sincerely wanted to know what it was called.
To be honest, I have been consumed with Palestine and Israel this week. I was probably going to write about it anyway, I was just waiting for the thinnest of pretenses. And then I saw the Jerusalem star. Thanks, Universe.
Like many people, I have often shied away from voicing my opinion about the "Israeli-Palestinian conflict." I've said that it's too complex, too nuanced, that there are too many players and too many intentions and too many facts and dates that I couldn't possibly know enough to talk about what is really going on there. And in many ways that is true. There is certainly antisemitism wrapped up in some anti-Zionism, and even in some Christian Zionism as well. Best just not to go there, right?
And let me clear about something: no Jewish person owes anyone their opinion of Israel Palestine, and to demand it from them is also antisemitic. Zionism and Judaism are two interconnected but separate things.
But this time, this wave of war more than any other, I feel called to speak up. To speak to the experience of being an American Jew watching from afar, to try to peel back some of the many layers of rage, devastation, betrayal, fear, and longing, coming from a place of privileged comfort to be safe on this soil in this time. I wouldn't call these words a complete account of that experience or even a prelude, but it's a gesture. When silence is such a huge part of the problem, that gesture is important.
I grew up going to a Jewish school. In that school I learned to speak Hebrew, to pray in Hebrew, and to love, respect, and even yearn for the state of Israel. I learned that it was called Palestine before Israel, but I heard no mention of who actually lived there before 1948, except that those people didn't want Jews there. I never heard the word "Palestinian," and I certainly never heard the word "Nakba."
See, the conflict may be complicated, but there are some things about it that are really quite simple: forcibly removing people from their homes so that you can have a home is wrong.
It is hard to put my thoughts to words not only because they are complex but because so many American Jews have done it already. In particular, this stunning essay from Peter Beinhart, editor-at-large at the decidedly leftist publication Jewish Currents: Teshuvah: A Jewish Case for Palestinian Refugee Return.
"Jewish leaders keep insisting that, to achieve peace, Palestinians must forget the Nakba, the catastrophe they endured in 1948. But it is more accurate to say that peace will come when Jews remember. The better we remember why Palestinians left, the better we will understand why they deserve the chance to return."
I urge you to read the whole thing. If you are looking for something shorter than 6500 words that speaks more specifically to the American Jewish experience, here are a couple of Twitter threads: one about how Jews are taught that Israel is intrinsic to our identity, which reinforces that speaking out against Israel negates our identity, or this one about how being an American Jew is a mindfuck.
I suppose what I can uniquely offer is tying it back to the colors. Green Purple. Green, the color of Love, Family, Heart, Harmony. Purple, the color of Awareness, Wisdom, Spirituality, and Lovingkindness. Green Purple. Love of Wisdom. Wisdom in Love. Heart and Religion. Family and Religion. These all sound like nice things, but they do have a shadow side. We can do terrible things in the name of love, and certainly in the name of religion.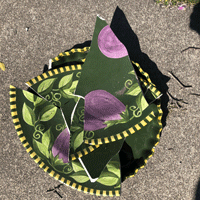 Two blocks after we found the Jerusalem Star, we encountered this broken serving bowl. It's actually been sitting there for a few weeks now. I think it was initially put out on the street with a pile of other free items, but then it broke so no one took it. This bowl is also Green Purple. It has eggplants on it, a plant I associate with the Middle East. It is a large serving bowl, one used for hospitality, for welcoming guests: a value important in both Jewish and Muslim cultures. And this bowl is broken. Not the most complex of metaphors there.
But the longer this bowl sits there in a broken pile, the more it becomes a new object. Not a bowl at all anymore, but a trash sculpture. I wonder about who actually left it there and is continuing to leave it there. Did they move away, or do they see it everyday and just walk by? Do they hold out hope that someone else may still pick it up for another use, like a mosaic? Do I want to pick it up for a mosaic? What can be built of these broken pieces? Sometimes I think about throwing it away myself, but I'm always with the kids or some other excuse. So there it sits.
I'll sign off with the last tweet from Marisa Kabas's Twitter thread:
"i don't have any answers. i don't know how we fix it. all i know is that i exist solely because my grandfather was able to escape oppression while his family perished. and i'll be damned if i'm told the death of palestinians is the price we must pay to survive."
Piece Seventeen: 12. Orange Blue
This is a warning that perhaps most rational people don't need to hear: don't talk to a child about astrology.
D's fifth birthday is coming up. So are all three of my brothers'. In fact, either she or one of my brothers is having their birthday each week from the end of May to the middle of June. All four of them are Geminis.
"What's a Gemini?" D asked me after I mentioned this a few days ago. So I casually explained astrology. Basically, that people create stories based on the position of the stars when someone was born, and that being a Gemini means that the Sun was in the constellation of Gemini when she was born. To contextualize it in terms she might understand, I told her that each of the signs has an element associated with it: water, fire, earth, or air. I told her that Gemini was an air sign.
That was where the trouble started.
"Air? An air sign? WHY AMN'T I WATER???" It isn't that she has a particular love of water, it's that she has a particular obsession with the fiction of Disney's Frozen. The elements play a big role in the plot of the movie Frozen II, with water playing the biggest role because, well, the movie is about ice powers. Anything that shatters D's identification with the main character Elsa causes cognitive dissonance.
I had clearly already gone too far for D here, but somehow instead of trying to back up or change the topic, I went deeper.
"Well, being an air sign just means your Sun is an air sign! I am sure you have other planets that are in water signs!" Which is true, but that still didn't mean she knew what the fuck I was talking about. I knew off the top of my head that she did in fact have air signs for her three biggest placements: Sun, Moon, AND Rising. But like some kind of astronaut searching for signs of water on another planet, I decided to pull up her birth chart on the internet.
"Look D! You have two planets in water signs! Your Mars and your Neptune!"
Of course this was not helpful. Having more information she didn't understand just sent her into a deeper spiral. Finally I got the message that it was time to de-escalate, but she wouldn't let me stop talking about it. She demanded I repeat the information to her again and again, and then demanded that I account for the astrological placements of everyone she knew. How many water signs did her little brother have? Her Dad? Me? Her neighbor friend? And how many water signs does she have again??
It sucks to be put in a box at the tender age of not-even-5-years-old. It's probably terrifying to be told that who you are is beyond your control. In some ways it is true, all too true. But astrology doesn't have to be one of them. She doesn't understand the nuances of narrative and interpretation, that astrology is a tool for inquiry, not a stamp of fate. It can be wonderfully affirming when you are mature enough to handle it, and deeply troubling when you still sometimes think you are a movie character. The fact that I was using fancy words she didn't understand and talking about stars and planets and information I found on my phone probably made it seem more real and even more inevitable. And more intolerable.
This is all to say that I cheated this week.
I've been waiting patiently for Orange to show up for seventeen weeks now. If I were following the grid in order this year, I would have encountered each of the colors at least twice by now. But this year I've been creating the Rainbow Squared pieces in an emergent order, determining each week's color pair by pulling a card from a deck that I made using images from Year 2. After I complete a piece, I sit down and draw the next card, going through the whole deck until ultimately all 49 are complete.
But so far this year, Orange had appeared exactly once and it was a piece that I didn't make myself.
Which brings me to the cheating. This past weekend we all went to visit some friends who work and live on a ranch: our first "weekend trip" since the start of Covid. I brought along my Rainbow Squared deck because I knew I would need to pull the week's colors. In this way drawing the cards became a little event. I wasn't on my bed or on the floor, my eyes weren't crusty from waking before dawn or bleary from the end of the day. It was a resplendent afternoon in the outdoors, with one kid napping and the other making potions with my friend who lent me her mountain bike so I could ride to an oak grove and conjure colors under a tree.
For each reading, I sit down and meditate, setting out all the previous cards in a grid. It was windy, so I carefully selected seventeen rocks to put on top of each one. I shuffled the rest of the deck as I repeated a mantra to myself: "May my will be God's will so that God may make God's will my will." I'm not sure how I feel about this mantra, but in an effort to bring the G-word back into my spiritual practice, I am trying it out. I like it because it is aligning my intentions with a higher power. And I don't like it because I am suspicious of the idea of this power.
Sitting under this tree shuffling cards, I was nursing pain for what the religion informing my spirituality is being used to do. This word "god" started to rankle me again. "God" was colonized long ago or maybe it was always this idea of "God" doing the colonizing, as so many many people throughout history have claimed the mantle of holy work to murder, steal, and oppress. Why would I want to claim to do God's will? But also, who am I to claim that I am doing God's will?
And who am I to claim that I am doing anything but?
So I pulled a card. It was a fine card, but it was not one I wanted. I sat there staring at it in my hand. What do you do in that moment, when you have meticulously set the bound of a ritual to summon your fate? This project is all under my creative control: I generate the puzzle and its solution. But I quite intentionally invite spirit or at least the laws of chance to collaborate. Can I defy that?
Then it clicked: this is all part of it, what you decide to do in this moment. If you don't want that card, take the fucking deck and reshuffle.
Take the deck and reshuffle. Until you get what you want. In your creative practice, your hand is in your hands. Deal with what you've been dealt. Or re-deal.
Orange Blue: Creative Expression. What you create, what you express, and what you put into the world, including yourself and your identity. What are the ways that your cultural practices or societal roles guide your work? And what are the ways that these practices and roles hinder your work? How can you re-deal, shuffle the deck, or create a new deck entirely?
Orange and Blue are also Fire and Water. I have elemental associations with each of the colors, but these are the strongest. In playing with their alchemical symbols, I noticed that the four overlapping triangles produced a different shape: the Star of David. A six-pointed star evoking the six directions: north, south, east, west, below, and above. A symbol of Jewish identity. And also separately the symbol on the Israeli flag. Our relationship to this star and our relationship to the stars are also within our control, or at least how we use them to orient.
Orange Blue is also Gevurah within Hod, or Boundaries within Surrender. The boundaries set by our cultural systems can be amazing tools for self-discovery and collective harmony, serving as guides and standards. You can surrender and submit to those boundaries and find power in their structure. Or you can surrender by defying the boundaries, releasing them to find a whole other kind of power.
Piece Eighteen: 37. Purple Orange
Purple: Awareness, Mindfulness, Consciousness, Wisdom, Beingness, Identity.
Orange: Creativity, Gratitude, Splendor, Surrender, Fire, Passion, Sexuality.
These colors have so many meanings, yet by the end of the week the relevant ones always crystallize. For the many Purples that have popped up lately, I've been thinking about Identity. Purple Orange this week is Creativity within Identity and Sexuality within Identity.
Appropriately, this week we began June and Pride Month. Purple is Red + Blue and Orange is Red + Yellow, so all of the primary colors are present in this pair, the whole rainbow.
Which brings up a lingering question about this project: how does Rainbow Squared relate to the rainbow as a symbol of LGBTQ pride? Rainbow Squared is in some ways about all rainbows, exploring how colors relate to each other and express themselves in the world. The pride flag is definitely included in that. But perhaps what really makes these rainbows queer is that I am a queer person.
I also present and live as a mostly cisgendered woman in a committed heterosexual relationship. From the outside, I am a mother and a wife (even if I don't use that word to describe myself). With these roles come so much privilege, recognition, and support. I am daily validated for maintaining the stable family unit so central to the functioning of the status quo. If I enjoy these benefits, I cannot and do not claim to be marginalized. And yet.
These roles are a large part of who I am but they are not the entirety, are never the entirety for anyone. In them I do not feel whole because I do not need to feel whole: I have so many other parts. The rainbow celebrates those parts. Those parts of myself that love across the gender spectrum. The rainbow even celebrates those wild parts that love not just anyone but everyone, and not just everyone but everything. And the rainbow doesn't just celebrate the parts, it celebrates the whole. This rainbow that I romance weekly is a queer lens on the world, bounded in many ways by my participation in mainstream familial institutions but also simultaneously unbounding it, saying there are more ways to be, so many more ways to see. But first you have to see them, you have to bless them, you have to create them.
Today I have officially been a parent for five years. I expected it to transform me utterly, and in many ways it has. More surprising and so affirming to me though is the ways that it hasn't. I was so terrified when I found out I was pregnant the first time. For months I privately mourned the loss of myself, as if I would come out the other side a different person, interested in totally different things, valuing totally different things. Looking back, maybe that fear wasn't about me somehow transforming myself through pregnancy but about mainstream society overtaking me in my new role, swallowing me whole, queerness and all.
Well, one dominant lesson from parenthood thus far and that I learned pretty quickly was that I am actually the same fucking person. Who I was before and who I am today are points on the same continuum, the same spectrum. The same rainbow. And it is perhaps in no small part thanks to this rainbow that I have preoccupied myself with ever since becoming a parent. Devotion to my creative practice and spending so much time loving what I love has been instrumental to my sense of self, my sanity.
My relationship to Pride Month has certainly changed in these early days of parenthood. Even if they are not the whole of who I am, my roles as mother and partner are still so descriptive of how I spend my time. This week in the midst of moving house I somehow also managed to spend hours on the internet looking at future trash to purchase for party favors, so I guess I have changed a little. These roles also make it harder to stay in touch with those queer parts of myself, to claim that that "B" is for me and even that "Q." I am hoping this Pride Month to bring those parts out a little more. This year and maybe even the next few I may sit on the sidelines a little bit, figuring out the right balance of visibility and advocacy, of stepping back and showing up. Today I celebrate living in my fullness. And I celebrate you in yours.
Piece Nineteen: 17. Yellow Yellow
Usually when I draw the week's color card for Rainbow Squared I try to clear my mind as much as possible. This week though, I felt compelled to ask the cards a question.
My question for the cards was more like a field of inquiry. I asked something like: "Other people. This project and other people. The internet and audiences and followers and attention and approval and me and this project and other people. Do I care? Discuss."
The cards answered: Yellow Yellow.
In Rainbow Squared, I consider the double color cards as especially significant, like the major arcana of the Tarot deck. Out of 49 combinations, there are 7 double colors in the grid: Red Red, Orange Orange, Yellow Yellow, Green Green, Blue Blue, Purple Purple, Black White Black White. When one pops up, it tells you to pay special attention.
In addition to a color card, each week I also pull a Tarot card, and this week it also happened to be a major arcana card: The Sun. I associate Yellow with the Sun already. Double Yellow, double Sun, during this week's solar eclipse. Okay.
Hello Sun. Hello everybody under the Sun. Hello Yellow. Hello Yellow Yellow. Hello Power, Will, Yes, Energy, Endurance. Like the power of the Sun, infinite power to feed and fuel all living things, along with the power to burn them. Colors fade in the Sun so fast, unless they belong to a thing that lives and grows. Like leaves, like you.
The internet is another resource with a twin power to fuel and to burn, specifically from its sheer capacity to expose us to more people than ever before. Sure, this includes strangers across the globe, but also everyone we have ever met. People who wouldn't otherwise remain in our attention streams like old schoolmates and distant cousins and hookups. It quite changes the game of who we interact with, who can be part of our communities, whose activity we can passively monitor and who can monitors ours. And the internet also transforms exactly what that activity is.
To be an artist in this age, it isn't enough just to make work. You also have to market that work, market yourself. You and your work are a package that becomes your brand, that you constantly repackage and market in order to build an audience for that work. Which sometimes feels empowering, but more often feels, well, dirty.
But why? For other businesses, there is nothing shameful about building a brand or a customer base. And hell, I'm not even trying to get anyone to buy anything. But maybe commerce is the thing here. Money creates a shame trap around art. Money somehow taints the enterprise of artmaking which "should" be done for its own sake, while simultaneously deeming a failure anything that doesn't have commercial success. I thought making animated gifs might keep me out of the commercial art market altogether for a while, but now there are NFTs. Which are truly, hugely empowering for a whole class of digital artists who can finally be remunerated for their work! And also require the same brand-building as any other current artistic enterprise, if not far more.
I suppose I have also been socialized to judge others who seek attention. Personal brand or not, my work is wrapped up with my life, so asking people to look at my work feels like asking them to look at me, look inside me even. But why does that feel bad? Is it because it is icky or because it is vulnerable?
This week my mom is in town for the first time since before Covid. It is wonderful and wild for her to be here in many ways, including the unconscious validation from having her finally witness my now full blown motherhood of two fully mobile, verbal humans. It makes it feel real in a different way, not that it wasn't real before. It also means that I have a little bit of daylight time alone to get other things done, as well as listening to things while I do those other things. Like binge-listening to the podcast "Under the Influence" by Jo Piazza, which is about mom influencers on the internet, a multibillion dollar industry. It. Is. Fascinating.
Do I want to be an influencer? No. Do I want to be an artist working from the material that is my daily life and sharing that work on the internet? Yes, and in fact, I would say that I am currently doing it. But like with anything else, I want to be successful at it. How do I measure success for a project that is still unfolding? Well, measuring success on the internet means eyeballs and engagement, means followers. What I do online isn't exactly optimized for social media. Instagram is just not designed for sharing or reading long form essays, which is why I switched to sharing via Substack and am happier for it. But I still have a nagging feeling that it needs more followers to be valid. This nagging doesn't dictate my practice, I still show up each week creating exactly what I want to create, commercial appeal be damned. But the more professional side of my brain keeps telling me that I need to build a bigger audience. Or is that a different side of my brain? Either way it feels shameful because seeking attention is shameful.
Fuck that shit, though. We love to hate femmes who seek attention and especially on the internet. It's wrong in so many ways, but especially how it puts moms especially in a bind where they are judged or ripped off either way. These people, these women, should not be the subject of anyone's hate. It's a system that pits us against each other and doesn't compensate caretakers or creators or arguably most people for the work that they do to contribute to society. So go out there and shine your goddam light. I can't promise I won't judge you, but I can promise that if I catch myself judging you I will name it and give you and myself some grace.
I was thinking about all of this as I used my own face as the subject of an animation, a first for this five-year project. While E napped, I hung some yellow fabric in the front window and sat in front of it painting my face with a yellow crayon. This window is perpendicular to Justin's desk, so I was perched right behind his giant computer monitor while he was on a call with an aspiring internet storyteller. As "perhaps the founding father of personal blogging," Justin takes calls like this occasionally. I could only hear Justin's end of the conversation as he gently guided another white male toward thinking about whether his work actually benefits society. Does it need to? Either way, unintentionally listening in while I sat there with my shirt off taking pictures of myself, the moment felt poetic. The trajectory from sharing your life on the web in the 90s to sharing it now is weird and getting weirder. I guess I'd like to keep it as weird as I can over here. While still being accessible enough to grow an audience, of course.
Yellow. Yellow Yellow. Power, Sunshine, Attention. Attention is unwieldy, especially in the conglomerate. Be mindful of where you put that attention, and also of how you seek it. But don't be afraid to seek it. Do whatever the fuck you want.
Piece Twenty: 39. Purple Green
Nine out of these past twenty pieces have had Purple in them, nearly half. You can check the grid yourself. I determine each week's colors by shuffling a deck of 49 different cards, and Purple just keeps showing up. In fact, Purple Green was the card I originally pulled when I decided to reshuffle and got Orange Blue. Purple wants to be here.
Purple is Mind, Mindfulness, Awareness, Wisdom, Self, Identity. Green is Heart, Love, Family, Leaves, Earth. So what does this Green tell us about Purple?
This past weekend we went to visit chosen family in Mendocino County. It was a reunion with the incredible humans that made up our germ pod for most of the pandemic, and it was also a reunion with the trees. The Redwoods. Coast Redwood, California Redwood, Sequoia Sempervirens, whatever you call them: the tallest living trees on Earth and some of the oldest too. But what struck me about seeing them again this time and perhaps at this time of year was not their age or their stature but all of the new growth.
Fresh redwood growth is such a vibrant green. On established trees you can see small branches of the new needles extending off the deeper green older ones. And on totally new growth, the whole shrub is that bright, new green, bursting with sheer potential. Potential to grow continuously, to tower over and outlive so many human projects. Potential to outlive the human project altogether.
Looking at new redwood growth also makes me think about its origins, how it came to be and all the other trees it is connected to. Because in all likelihood, any given redwood reproduced asexually. Redwood cones have a surprisingly low germination rate, so sexual reproduction by redwoods makes up only a small percentage of actual redwood trees. Most redwoods come from fallen branches, stumps, or sprouted from their own roots.
Yes, most redwoods are clones of other redwoods. New trees sprouting from dead parts of other ones, or right out of their trunk, or underground from the very same root system. Different manifestations of the same organism, connected. Redwoods demonstrate that there are many ways to make a family, many ways to reproduce, many ways to create and connect. And redwoods not only keep generating new redwoods, they create homes and habitats for other plants, bugs, birds, reptiles, mammals, fungus, and maybe even beyond. Redwood trees revel in community, and what I would call queer community at that, trees nurturing other trees and every other kind of creature besides.
And yet new redwood growth is also a reminder of loss. How many ancient redwood trees used to stand on California's coast line, old growth forests decimated for extractive industry. We can never bring back those millenia of growth and interconnection. Preserving second growth redwood is a challenge even now, as the debate over logging in Jackson Demonstration State Forest in Mendocino County plays out. It is perhaps hard to trust Cal Fire's interests when they are ultimately the operation that profits from the materials. Frankly it's hard to trust any state or government power, even when they claim to be doing good.
Yesterday the United States officially recognized Juneteenth as a national holiday. This is a good thing, AND it is not enough, as journalist Mara Schiavocampo shares in an opinion on CNN. I spend most of my internet time in a (beautiful) activist bubble, so it was exciting to read this on mainstream media. Also exciting for government officials themselves to speak out like St. Louis Rep. Cori Bush:
It's Juneteenth AND reparations.
It's Juneteenth AND end police violence + the War on Drugs.
It's Juneteenth AND end housing + education apartheid.
It's Juneteenth AND teach the truth about white supremacy in our country.
Black liberation in its totality must be prioritized.
Period.
Purple Green. If Purple is mind and Green is heart, then Purple Green is about keeping the two connected. Or more specifically, not letting the mind dominate the heart. Not letting social conditioning dictate who is in your family or how you love. Our expansive family connections are the basis of our identity and being; our relatives extend far beyond our own blood lines. Not letting extractive systems dictate what or even who is valuable.
Piece Twenty-One: 8. Orange Red
GUEST PIECE
Wow wow wow. Is meaning just dripping from the world waiting so juicy at every turn? So that any card I pull would be meaningful? I don't know, but as a dabbler in Tarot myself I have deep respect for divination systems including this one.
I receive my color set at 1:36 am. I am awake, alone in bed yet not alone. My partner J is away for a few days and I've woken to the feeling of our baby moving in my womb, little hands and feet thrumming about so strongly I feel burning in my throat as my stomach contents are pushed around and upward from the inside by our little bean, little being. I don't often wake in the night actually, which is a blessing in a 34 week pregnancy. So I'm not upset, just mindful. I pee, I drink water, I reach for my phone and see that ilyse has sent me the Rainbow Squared colors. And I click in and see a photo of orange & red and to me it's clearly blood, it's body, it's growth, life, it's me creating (orange) a baby body (red) and as much as the red of survival, cycles, and physicality is on the nose, so too is the creativity and gratitude, the splendor surrender fire passion pleasure of orange.
Receiving this card from Ilyse slaps me across the wide part of my shoulders, envelops me like a surprisingly strong hug that takes your wind just briefly, undeniably IS me in this moment.
_
It's a few weeks later. Time is flying by, I'm almost 36 weeks pregnant now and the little body inside my body is getting stronger every day. We watched the movie "Alien", the original 1979 one, and it was not disturbing to me at all, because my little alien feels just perfect, so right, even when I can literally see their physical movement from the outside! There must be so much red and orange in the womb-world, eyes that are developed enough now to perceive, see through placenta and viscera, through stretched skin, I imagine like orange tinted glasses. I sun my belly sometimes just wondering if that brightens their world from deep shadowed carmine, wine colored realms into more apricot, cantaloupe, golden yellow zones.
J & I moved to the coastal redwoods recently, to nestle in with blood family for this baby time instead of our friend-family in the city, and our new place is filled to the brim with greens and browns. The calm peace of trees and ferns and soft moss. I told ilyse there was no red and orange here.
Which is not true of course, but as I looked around for creative inspiration all I saw was human-made things. Our orange tent, set up for glamping guests now. A red plastic cutting board. A soft red velour pillow. These dead objects don't spark anything. I dismiss them, looking for something to vibe with the thrumming life of the first inspiration here. But the trees stay green just changing light to dark, even the flowers are stubbornly yellow, pink, white.
But I'm softening now, finding the crack in that reaction. It's tempting to try to identify and exclude the things outside of the growing decaying world and our own red blood bodies, to say that they are somehow separate or count differently because we "made them up" or "invented them." But is there anything "outside" of nature? People are nature, so what we do is also nature. Yet when we talk about "natural" vs. "non-natural" things, we're trying to give language to a distinction that is interesting. They feel outside the cycles of blood and survival, but it's in this separation that there's something to dig at, something I dig at often in my life and work. What is our conception of life systems? What is the Interdependence of things and people?
The "non-natural" distinction fails us because all these human made things are real and really part of the world. Even the bits of plastics in my body. In the body of global life. How we make and use them really does affect us, each other, the global climate system, and all living things. Just like the trees and the moss and the organic membranes in my body.
_
I'm 37 weeks pregnant now, and I think Baby has "dropped" which means at least for me that it feels like their little head bone is touching my skeleton from the inside. Weird pressure on the pelvis. I walk a little more bow legged. Yet I am also even more in awe and in love with this being, I can tickle a foot stuck up in my ribs and feel a response, another life, another being, perceiving the world and moving in it.
Life is a gift. Life is a leap. At least for humans it's not all that comfortable to make life. But comfort is not the reason to live. I feel deeper than ever gratitude for help and support, all the difference a kind word from my mom makes, gifts I could not pay for. I feel how foreign aloneness is to life, how ridiculous it is to look at the world transactionally. How much with others, interdependent, is the way, is the real. Other people. It's impossible without them. Us. And so much more beautiful.
Gratitude, splendor, and surrender to the process of creating life and being.
Piece Twenty-Two: 40. Purple Blue
"You can't step in the same river twice."
This phrase popped into my head a few times over the last couple of weeks. I never thought about where it originated until now. Looking it up, it is attributed to the ancient Greek philosopher Heraclitus. Well, even if he has "clit" in his name, he's still pretty cranky, according to that Wikipedia page. Maybe it's better to quote Octavia Butler here: "God is change." As in the first tenet of the religion Earthseed in the Parable of the Sower:
"All that you touch
You Change.
All that you Change
Changes you.
The only lasting truth
Is Change.
God
Is Change.
∞ = Δ"
Oh, Δ. The symbol for change. Right now Delta is more than a symbol, a mutation spreading disease and fear as Covid-19 transforms. But don't be afraid of change, perhaps coronavirus tells us. Or brace yourself for it.
Or maybe we don't need to talk about coronavirus right now.
Change may be the only lasting truth. But truthfully, the reason I brought up change in the first place here is that lately water has been making me think the opposite. Rather than not being able to step in the same river twice, it feels like every river is the same and I can never actually step in a different river.
Not because the river isn't changing. Of course it is. But all bodies of water are connected: rivers, lakes, oceans, even our own animal bodies. Perhaps every body of water I encounter is indeed the same body of water.
So here are two different experiences of two very different bodies of water last week.
One: We've been jumping into the ocean for maybe 13 sets of solstices now. The most visceral of rituals, it quite simply involves taking a cold plunge into a body of water around sunrise or sunset on the winter and summer solstice. Though so many things have happened over those years, each time the sun returns to the same spot, I return to the same ocean, and I am still the same person. Even if I don't behave the same way, or the ocean for that matter.
When I offered my naked body to the waves this solstice, the ocean answered by tossing my body out. I had run into the cold Pacific screaming with boldness and glee. I was lingering up to my thighs for a while in the crashing waves, perhaps the last person in the group to fully submerge. I finally made the decision to go under, and the wave that was approaching at just that moment happened to be, well, huge. In the second or two that I watched the wave build and tower over my head, it felt like my only choice was to dive right into the wall of water in front me.
I was immediately tumbled backwards, first onto my butt and then on my back and then on my head and then back onto my butt, finally spilled out onto the beach sitting up. My back was scraped and scratched and my hair was full of sand, but it felt like the ocean was greeting me, dominating me, teaching me. Saying: "Hi There. I'm powerful and you're small. Happy Solstice."
It was not the first time the Ocean has taught me this lesson. I didn't not like it.
Two: Instead of turbulent, infinite water, this was placid, contained water. A gorgeous lake nestled in rolling hills, or what to my Midwestern eyes I would call mountains. Away for the weekend (the weekend!) with friends (with friends!) and without children (without children!) and without my partner even.
It was very hot out, and I always bristle at the idea of dragging my pale ass to a beach in the middle of the day because it means a constant campaign of sun protection. But I also always forget how goshdarn pleasant it is to swim, to be near water on a hot day. So I swam and swam. I swam out to the middle of the lake. I could see my friends getting farther away on one side, and on the other side I could see a mother who was there supervising three children. And me in the middle, being myself. Looking at my life from above. Held by the water, floating and wondering.
That whole weekend I was able to inhabit a self that I hadn't spent more than a couple hours with in years. A self that can sit and chat without constant interruption, a self that can catch up with old friends and make new ones, a self that can participate in and lead group ritual, a self that can perform as a stripping space pickle. A self that can accidentally smoke too much and stay up too late in a hot tub watching the rising Moon chase a star that turns out to be Saturn. A self that can swim without supervising anyone else.
So I swam and wondered about this self I am creating, this rainbow self, with all of these colors and cards and pictures and words. What is this practice I am going deeper and deeper into? What is the significance of all this pattern recognition, this pattern generation?
Coalescing a story around symbols each week is not unlike trying to coalesce a self around your circumstances. Where you born, who you were born to, what genitals you were born with. Who you keep close and what you hold sacred. All the things that have happened to you and all the things you choose to do with your time.
We are constantly trying to make sense of the fragments of our experiences, trying to integrate them into a self. Looking at some colors or cards or constellations and crafting a narrative from how they hang together is not so different from daily life, putting together the pieces of a self.
Sometimes people tell me that they admire my ability to stay myself through parenthood, or motherhood specifically. To stay active and weird. And some of that comes from some serious commitment and effort, in the case of this project anyway. But mostly I can't help but be myself, tenaciously. Can anyone? One of the biggest surprises of motherhood so far has been how much I am still the exact same person.
I somehow expected that motherhood would totally transform me, and when I found out I was pregnant I was terrified. Not of the idea of having a child, but of losing myself. I was convinced that the self I had known was about to die and be replaced by some Mom Self. A Mom Self with new concerns and preoccupations, all of them different from the ones I had before and all of them categorically selfish, irrelevant, and boring. A totally judgemental and even patriarchal fear perhaps, but I was not in a rational place.
As it turned out, I was still the same person. I am the same person. And utterly different. And essentially the same.
With parenthood does come new parts to this self too. I didn't anticipate liking those new parts, but I really do. It's fun being a parent, seeing the world through literally new eyes. It's gratifying. There are parts of my Mom Self that scare me, but I am pretty sure those were always there and are just finding new triggers.
Our selves are expressed in relationship to others, in communication with others. So perhaps being a parent doesn't create new parts of myself, it actually creates new relationships that bring out those parts. I like these little people that we are raising. I like them a lot. I like talking to them, I like holding them, I even like wiping their snotty noses and reminding them to blow.
When I pulled Purple Blue this week, I drew a Venn Diagram. Two circles representing two halves of myself, or two different selves. The family self and the priestexx artist performer self. I captioned it: "Fear of Sacrificing a Self. But what is the blend?" And next to that: "What color do they make together?"
I spend so much time thinking about combinations of colors, but I don't often think about what color the two mixed together would be. In this case, if you mix Purple and Blue, you actually get more Purple.
If you have parts of your identity and your sexuality that are expressed in relation to other people, then it can feel like who you spend your time with shapes who you are in that time. It was the tail end of Pride Month, so I took those circles and colored them Magenta and Blue, combining to make Purple, using the hexcodes of the bisexual pride flag. I spend my time these days in partnership with a cis mostly-het man, and I hope to for the rest of my life, with that particular person anyway. That does not erase my queerness. I don't have to choose a magenta circle or a blue circle, or even dwell in where the circles intersect. They are all part of me, all shifting and changing but contained in a self that is always the same.
I don't know if these metaphors add up, but maybe it doesn't matter. Every moment you are alive you are expressing a self, expressing your selfness. A self might be many intersecting circles, each ultimately separate. Or perhaps a self is just their intersection, the way these individual expressions of self blend over time. The self may be the integration, it may be a multiplicity, or it may be individual states, expressing different identities at different times like putting on different outfits.
Purple is awareness, wisdom, identity, self, woo. Blue is communication, expression, and water. Purple Blue: expression within identity, within self. What parts of yourself do you express at any given time? How do you communicate them to the world?
Whether and no matter how you act on them, they are still there, still part of you. Still part of a self that is a container for the constantly changing.
Piece Twenty-Three: 16. Yellow Orange
D came home from day camp with a yellow cootie catcher. If you don't know or don't remember, a cootie catcher is basically a paper fortune teller. It's an origami shape that you can write messages all over and then manipulate with your hands, and then play a game where you have someone else choose their fortune.
Let me take you through the sequence:
1. First, pick a color: Yellow, Blue, Green, or Pink. Okay, Yellow: Y-E-L-L-O-W. I moved the paper back and forth, once for each letter, for a total of six times.
2. Great, now on the inside there are numbers, so pick a number, 2 or 11. Okay, 11: 1-2-3-4-5-6-7-8-9-10-11.
3. Now in a different spot inside there are two more numbers, so pick a number, 3 or 10. Okay, let's lift the flap under 3!
4. Here's your fortune! You get: Dirt!
When you get Dirt, D squeals with delight. Why? Because it's the worst one, of course! See, the possible fortunes in this cootie catcher are Cake, Pie, Ice Cream, and Dirt. According to D, Cake is the best, and Dirt is the worst. And you got the worst one.
"But Dirt is actually great because without dirt you wouldn't have any food!" our neighbors shouted back to her when she told them their fortunes out the window. I had just told her the same thing. I also told her that since I'm not really big on sweets that I'd probably prefer dirt anyway, or certainly ice cream over cake, personally. And why is she fetishizing sugar? Anyway, D doesn't want to hear it, of course.
Each time she pulled out the cootie catcher it turned into a lesson in subjectivity. That even if each person can't choose their fortune, they can certainly have their own attitude about it. But for D, like for so many kids or even adults, this game is about control. About Power. It seems that the thrill of the cootie catcher is not simply in relaying information, but about determining fate. So maybe this was a teaching moment, or maybe I was just getting in the way of her play. Shaming her even?
Yellow Orange: Power and Creation, Power and Creativity, the Power of Creativity. Crafting a paper fortune teller is certainly an exercise in power and creation. But what holds the Power of Creation if not Dirt itself? The very substance from which we spring and sustain ourselves and stand on, and to which we will all return?
Oh, there is so much more that I was thinking about this week around the Power of Creation. Some weeks I write and write and write, and other weeks I read and read and read, perhaps procrastinating, telling myself I am amassing research until I am full of too many references and too little time to do anything with them. But this project is about the practice, the making, the process. Right? It is not about the final product or even you, the audience, even if I accidentally moved the project away from Instagram onto an email newsletter and Email Newsletters Are a New Literary Genre.
There it is again, the power of creativity in a world where we are all creators. Everyone on the internet broadcasting themselves and their preferences, their real actual selves. Sure there is a spectrum, from those doing it only passively through their surfing habits, to those just dabbling in social media, to some creators at the creative genius level. Like artist and internet master Lil Nas X.
Among the delightful things I learned from that article by Jazmine Hughes is that Lil Nas X is into Numerology. When he first started getting famous he saw the number 66 everywhere. Now Lil Nas X's new number is 79. He cites the meaning as: "continue listening to your spiritual practice and/or career path and your Divine life purpose."
We started off Yellow Orange with a number game, right? The cootie catcher. Well, both 66 and 79 are out of the realm of this 49-piece grid, but if we want to link it back to Yellow Orange, we can use more numerology. 79 → 7+9=16. Yellow Orange. And then 1+6=7, the building block of this whole system.
In other numerological news I also discovered this week on July 7th, 7/7, that the name of this project is 7x7. Writing about D's cootie catcher inspired me to make a tiny Rainbow Squared cootie catcher (I told you, deep procrastination happening over here) and as I was counting letters I realized that "Rainbow" and "Squared" are both seven letters long. How did it take me five years to notice that?
Do you want to hear more about what I was thinking about this week? Is that what this is about? Well, I was worrying about UTIs (pee! Yellow!) and IUDs (copper! Orange!) and whether they are linked, which sprung me back to how fucked it is for almost all birth control interventions to disrupt female instead of male biology. Talk about the power of creation: I'm just sitting here cycling, it's the sperm we should be trying to stop. I also reread this article from 2017 by Claire Dederer asking What Do We Do with the Art of Monstrous Men? It takes a wonderful left turn at the end about motherhood and "art monsters:"
"If I were more selfish, would my work be better? Should I aspire to greater selfishness?
Every writer-mother I know has asked herself this question. I mean, none of them says it out loud. But I can hear them thinking it; it's almost deafening. Does one identity fatally interrupt the other? Is your work making you a less-good mom? That's the question you ask yourself all the time. But also: Is your motherhood making you a less good writer? That question is a little more uncomfortable."
But in the end, everything I spend so much time wishing I had more time to make will also return to Dirt.
Maybe even the internet is Dirt. And it is made of us. If we are all content creators (which we are), then we generate the very material the internet is made of. We churn the compost. Yes, we are all content farmers, nurturing algorithms and peddling identities through our very viewing habits, let alone what we post and publish. Maybe the dirt is the internet, or maybe the dirt is our own lives, the crops are the content, and the internet is the farm?
I don't know. But I do know that the internet is also ultimately filled with younger and younger people making cool shit I don't understand that I probably shouldn't preach to them about.
Just like the cootie catcher.
Piece Twenty-Four: 30. Blue Orange
Blue and Orange are complementary colors, opposite each other on the color wheel. Blue is the color of water and Orange the color of fire, another set of opposites. Yet both of those elements represent creative forces. Water represents the emotional, intuitive realm, and fire represents your craft, your passion, what you create.
Blue is expression and Orange is creativity. Those sound quite similar, but the urge to create is perhaps different than the urge to express or even to communicate. It is one thing to make a thing, it is quite another to share it with the world. Blue and Orange also originate from different parts of the body. Blue comes from the throat, the noises you make, the words you speak, the songs you sing. Orange comes from your sexual organs, your loins if you will. Orange is what you create with your body. Not just reproduction, but sexuality itself. And not just sexuality, but anything you create from a burning urge inside of you.
Anyone who has given birth can tell you that your throat and your loins are quite connected. A midwife taught me that what you do with your mouth during labor affects your vagina and vulva. Making out is certainly helpful (lips and lips, afterall) but this also includes the sounds that you make. Long, low, resonant, deep sounds during labor open your mouth and your throat and all the channels in your body. High pitched screams are tempting, especially in the face of fear, but they make you tighten up. Hell, this probably also works for all of your orifices and what comes in and out of them. What comes out of your mouth directly affects what you can put into the world.
For five years, Rainbow Squared has been a way for me to make. Like Blue Orange, to create from a burning urge inside of me and speak it into the world. What started as an exercise in artistic production has turned into something else. Over time it's become less about what I create and more about what I notice, what I am in communication with and what is communicating with me. It's an exercise in paying attention.
I am finally reading the book How to Do Nothing: Resisting the Attention Economy by Jenny Odell. As another artist who works with trash while keeping it contextualized as trash, I have had an artist crush on her for a long time, and this book does not disappoint. Ultimately, pulling away from the infinite feed of internet content is not only about removing your attention, but also about putting it somewhere else. Odell gives her deep attention to the natural world around her, cultivating a relationship with her bioregion and to the birds, plants, and organisms she encounters. I guess you could say I give my attention to the physical world around me, cultivating a relationship with color.
Having a weekly practice of artmaking is actually itself a way to resist the attention economy. It's no accident that this practice has taken the place of television for me: it's not only that I don't have time to watch it, I kind of don't need it as much anymore. In a way, this is my TV. Not the content that I am generating, but the process of making it, the conversation with the world. This project has also taken the place of a lot of time I would otherwise spend on social media. While I certainly still scroll the internet, I probably do less of it, and only a small percentage of it is in social media channels with people I know personally (for better or worse).
And of course, I am generating content here and posting it on the internet. Yet maaaybe this very intentional approach to self-chronicling is something different. Afterall, there is something about the structure of this particular content that makes it anathema to social media. Would you want to read this in your infinite scroll? Do you read it in your inbox? It has always felt weird to try to insert this work into social media, but that's where the people are, right? And you (yes, you) engaging with the work is part of it for me. Gloriously though, it's not the only part of it. If the making of the work is itself a performance piece, in some ways I am probably the number one audience member for this work. It is gratifying just to make it.
But what has also been deeply gratifying is having other people make it. I am so excited for other people not just to read it but to do it. Every seventh piece this year is a collaboration, with three so far and the fourth in the works. Next year there will be way more (maybe you?). And like with each weekly piece, the process is the best part. This is spiritual work, divination work, channeling someone and drawing the card for them that will determine the colors that set them off on their own personal journey of inquiry. I didn't realize until writing this week's piece that I even use that word "attention" to guide them in their process, telling them over email:
"Ultimately whatever you are learning or discovering while you happen to be paying attention to these colors is what you are meant to share. Honor your own experience as the art itself and the right images and words will emerge from that."
In this way, Blue Orange is more than an individual expressing creativity. It is that individual communicating with creation, a reciprocal act.
Piece Twenty-Five: 13. Orange Purple
I drew this card in the Yoga Room at the San Francisco International Airport. Yes, there is a Yoga Room at the San Francisco International Airport. Like many things about the Bay Area, this is something that simultaneously makes me scoff and that I also secretly enjoy.
I was on my way back to my hometown in Michigan for the first time since before the pandemic started. So I had flying on my mind when I drew Orange and Purple, and immediately thought: Fire and Sky.
Each of the colors in the Rainbow Squared system has an elemental correspondence: Red is Blood, Orange is Fire, Yellow is Sun, Green is Leaves (Earth), Blue is Water, Purple is Sky (Air), and Black White is Light. Hence Orange Purple as Fire and Sky. It made me think of a wild photo my friend Jimmy took last year when he had to hop on a plane to escape the smoke choking his asthmatic lungs.
Last week when I was in the air, the sky was basically the color it should be: white clouds and blue skies. But drawing the Orange Purple card as fires rage all over the United States, I was struck with a pang of fear that perhaps the sky in the Bay Area would turn orange again, that maybe boarding this plane would be escaping that fire.
Then just a couple mornings later, waking up in Michigan, I noticed that the light streaming through the window had a familiar orange cast to it. It was lovely in a way, like the golden hour at dawn and dusk when the sun is low, except this didn't disappear as the sun continued to rise. I knew immediately to check the air quality index, and sure enough, the AQI was 122: unhealthy for sensitive groups. Still I thought this orange sky must be some by-product of pollution and humidity, that the hot summer air was trapping particulate matter or something. But sure enough, what was turning the sky was orange in Michigan and so many other places was forest fires.
I know that my sense of color may be more honed than most: some people I talked to about the sky that day said, "The light is orange? Really?" But in the 35 years I have lived in or visited Michigan, I have never seen the sky look like that. Just one among so very many signals that things are not normal. Climate catastrophe is here, has been here, is speeding up. Everywhere.
I've lived in California for nearly 13 years now, and I still have a hard time calling it my permanent home. Not because I don't feel rooted there; I do, maybe even more so than Michigan where I haven't lived for longer than a couple months since I was a teenager. There are many special things that tug me back to Michigan, including the fact that most of my blood family is here. But the biggest reason it is hard for me to admit to myself that I might live in California forever is water. It feels kind of, well, ill-advised to leave a region that holds 20% of the world's fresh surface water for one racked by drought even before the effects of climate change. Michigan has so much fresh water you can even recognize it from outer space, bounded by those Great Lakes.
And of course Michigan's relationship with water is fraught. Though there is now a water shut-off moratorium that will hopefully become permanent, the City of Detroit was turning off water for thousands of residents due to nonpayment. And Flint poisoned its citizens with its water supply, a crisis that lingered on as long as it did in a documented act of environmental racism. Though water is a human right, quantity does not guarantee quality or even access depending on who you are.
The climate crisis impacts different populations differently. Even my question of where it makes sense to live drips with the privilege to be mobile, to even feel like I'd have the option to live anywhere I want. The option to have moved to California in the first place, or to be able to travel back and forth to see my family.
This was the first time I've been on a plane since before the pandemic started. I grapple with a good deal of eco-guilt (or, let's face it, every type of guilt), so there are ways that flying being impossible for a while was actually weirdly comforting. It was another choice I didn't have to make between seeing my blood family and my principles. The choice between seeing them and expending mass amounts of carbon. That's part of why it feels so unnatural to live so far away from family. Or perhaps the unnatural thing is to live so far away and still expect to see them often.
Orange and Purple are two of the three secondary colors, the third being Green (as opposed to the primary colors of Red, Yellow, Blue). And indeed, being in Michigan, I am struck by how Green it is. Trees upon trees and bushes and LAWNS, lush leaves everywhere. You can just see the water pumping through the landscape. Green is leaves and it is also family. Michigan is where my blood family is and has been for four generations, after coming over from Eastern Europe. Orange Purple is in some ways a lack of Green, and Michigan is Green thing, a Green place. A place I don't live.
I talk a lot about Orange as Creativity and Creating, but Orange is also Gratitude. If Purple is Sky and also Magic, Orange Purple might then be Gratitude for Sky. Gratitude for Sky Magic even, for the technology of air travel (I won't go into gratitude for the technology of space travel here, because fuck the billionaire space race). It feels like magic that I have the access to hurdle myself through the air in a metal tube and touch down 2500 miles away. I don't want to be ungrateful for that.
I don't want to be ungrateful.
I also don't want to be a party to this devastation.
Even if water is a life force, is life itself, this week is a stark reminder of its destructive force. Michigan itself has been flooded by rain, and look at the horror in Central China or in Western Europe. Choose drought or choose flood, but climate change is here.
Orange Purple is also Creating with Awareness. Up in an airplane looking down at the world, sitting so very close to so many strangers, I thought about what we are creating, together. It isn't up to each of us, that's a lie. But maybe it is up to all of us. What we do as our blue green world turns orange.
Piece Twnety-six: 45. Black White Yellow
They say that in the Midwest there are only two seasons: Winter and Construction.
This past week we clocked at least 600 miles of Midwest driving, with a decent amount of road work going on. I was behind the wheel for most of those miles, including when I took the photos for this animation (disclaimer: do not try this at home; we were going much slower than it appears and it still wasn't the smartest thing to do).
From the asphalt to the paint to the signage, Black White Yellow is the color of the road. Or the road as of the 20th century, with the advent of cars. Black White is interconnectedness, transcendence, light. Yellow is power, energy, sun, yes.
Driving long distances is a strangely collective activity, and not just because I was at the helm of a minivan with three generations of passengers. Driving is a dangerous dance with strangers in metal boxes, speeding up and slowing down with and in spite of each other. The separation of those boxes can make the interaction of driving feel impersonal, but (at least for now) there are humans making decisions that directly impact your personal safety.
Beyond the literal collectivity of driving, it's also a decent if often used metaphor for life. You know, we are all on the road together. Or maybe it is that there are many roads, many interchanges, many entrances and exits, and not all connected. Many types of vehicles, many types of passengers, definitely not enough types of fuel. Individual contexts and stories all so different from each other and yet traveling through time and space together.
Okay, maybe it is just that I am from the Motor City and I actually secretly love to drive. But I also hate cars and try to organize my life around using them as little as possible, though that has certainly slipped a lot in recent years with the pandemic + two kids.
Still, when I stop to think about not just the carbon I emit while I am driving but the carbon emitted during the travel of all of the things that I consume and throw away, and then expand that to think about all of the travel of other people and their things, it feels daunting and hopeless. Not because there are too many people to all make more ecological choices: I need to remind myself that it's so much bigger and in the hands of so many fewer than that. It feels like the whole human project is a vehicle with no brakes, but maybe it is that we don't have the right people behind the wheel. We don't have The People behind the wheel. Could "we" ever?
I don't really have anything uplifting to say to wrap this up, and this driving metaphor is getting tired. I'll just point to what I said about Black White Yellow for Year 3:
Restoring power to the many through collective action. Smashing systems of oppression and violence with a shining Yes to what's possible.
Well, at this moment, even saying yes to what's possible seems kind of impossible. Maybe the road we're on is a loop, like this animation.
And like maybe there is no more winter, only perpetual construction.