"Wherever we go, is there a way to get home?" D asked me while walking back from the playground.
"Oh wow," I said. "That is a deep question." I repeated it to myself out loud a couple times: "Wherever we go is there a way to get home…?"
I mean, the answer is a definite no. Right? As an example she might understand, I brought up Elsa's ill-fated journey to a mystical glacier in the movie Frozen II. But as D pointed out (spoiler alert), Elsa does ultimately come back.
Wherever we go is there a way to get home? Who is we? What is home? Usually people don't intend to get lost. But there are certainly trips that people embark on and never return from, like an accidental drive off of a cliff, or a poorly-timed flight in a small aircraft. Or just this week, going to work as an Asian woman at a massage parlor. Or going to the grocery store.
Fuck.
Yes, you can get lost forever easily, all too stupidly easily. But maybe it isn't the victims who are lost. Their lives were taken, not misplaced. It's the murderers who lost their minds. Lost it how though? To what? To pain? To loneliness? To late-capitalist colonialist white supremacist patriarchy?
I guess that's the question I was already wrestling with this week. I told Will Rogers (you might remember him from last week, Orange Black White) that this week was Purple Yellow, and that I was thinking about mind power. In response, he forwarded me our mutual friend Bradley Heinz's thesis. Now, normally someone's 70-page graduate school thesis written to satisfy degree requirements in medicine might not make for accessible reading, but when it comes to Rainbow Squared I take any of the universe's bids for my attention seriously. And as it turns out, this was a great bid.
If a computer were an apt metaphor for the mind-brain, a materialist study would aptly describe wires and logic boards and encasements, but would have no reference to an "internet" or "cloud," core features of today's technologies. As these various schools of thought within cognitive neuroscience have evolved and provided new theories of mind that try to explain how the brain produces consciousness, is it possible the field is making a clear logical fallacy? Is it possible we are mixing up or assuming a relationship of causation when all the evidence we have merely points to correlation? What if consciousness wasn't produced by the brain at all, yet instead exists as an independent entity from the brain, and perhaps all of matter?
And it's not that any of this can't be studied. It can and it has. But rather than letting data speak when it comes to phenomenon that might point to an expanded understanding of consciousness—like near-death experiences, clairvoyance, or even accounts of past lives—modern science shuts down potential discussion before it starts, rendering it pseudoscience. See where that bias may be coming up for you even right now, before looking at the data.
The potential implications here are huge and far reaching, in the medical field and beyond. Bradley again (emphasis also mine):
Operating under the belief that the only "real" thing in the world is matter, that life is nothing more than a complex arrangement of constituent tiny dead parts, the universe could appear as a cold, lifeless accident, devoid of purpose, intention, or direction. It is plausible to consider links between this hegemonic scientific worldview and the state of the world. If collectively we believed in and our institutions operated under a post-materialist framework, could we continue to objectify and desecrate our natural world for profit? Would we be able to continue funding aggressive wars and military occupations of foreign lands for imperialist gain? Would we continue to register record levels of disaffection, despair, and even suicide?
Oh there is so much more here to say about this, about everything, that I did say, that I deleted, that I had to delete. It's just not in my scope this week or next or perhaps any time before my kids are in school ever again to write an essay about the spiritual ramifications of medical epistemology, let alone mass shootings. But the feelings are there, so many of them, trying so hard to come out as words.
I snuck away to my computer to write early the other morning. When I came back in the room, I was immediately stopped by little E pleading "Chair! Chair!" begging me to sit down with him so he could nurse. As I sat, I talked through the open door to Justin in the kitchen. I told him how no matter my initial intentions when writing, it never seems possible to just say something simple.
"Thum-puh," E tried to repeat after me, pulling off of my nipple suddenly to say so. He latched back on to nurse some more, and then pulled back off to try to repeat the word again. "Sum-puh." Then latched again, pulled off again. This is not the most comfortable sensation. But he kept trying until he got it. "Sim-poo. Sim-ple!" E locked eyes with mine, brimming with pride and seeking recognition. I think. Or maybe he was trying to tell me something, trying to have me get it, that he gets it. Simple.
Simple. Simple. Tell me, child, is anything ever? I can't know what your cognitive experience is, but I bet I romanticize it as more simple than it actually is. Right now your mind is filtering and sorting so much, learning to assign language to your environment, learning to tell your mouth to make sounds that make sense to other people. The things I will need to tell you with words will certainly get more complex over time, as it already is with your sister. How to explain the inexplicable? How to explain the inexcusable?
Purple is the mind, consciousness, awareness, wisdom. Yellow is power and saying yes. Mind power. More than we can ever hope to understand. Maybe even mystical power, higher power, or mystical yes, admitting that there are things going on that we don't and won't understand. That we can't understand how reality works, let alone how the mind works, or how the two are linked. We don't even understand what the mind is, so how could we ever understand why it does what it does?
Piece Nine: 25. Green Green
For at least as long as the pandemic has been going on, D has made "potions." It probably started earlier than that, but I remember it mostly in the context of our many (many) hours together on walks (what else is there to do?). These potions mostly or entirely consist of foraged plant matter, leaves and flowers ripped up and put in some sort of vessel. It's been a learning process for both of us, negotiating about which plants she can touch and which she should leave alone, learning to pick flowers only when there will be many still left.
We were outside together this week just the two of us, somewhat of a rarity. Of course she wanted to make potions. Somehow she located a cinderblock and declared it the perfect container: "You can have that side, and I'll have this side!!"
D filled hers with what she considered a wide array of flowers and leaves. This week being Green Green, I filled mine only with green things. She declared this boring, and not very magical. She didn't really buy it when I told her that colors are my magic.
"My potion is for healing people and creatures, what's yours for?" she asked me.
"Hmm...I suppose mine is for healing hearts," I said.
"That's it?"
I mean, healing hearts is a tall order, right? Isn't that the start of healing people and creatures? I didn't feel like going down that rabbit hole with her, so we just sat making potions. Eventually though, I couldn't help it. I pulled out my phone to take pictures.
"Mom, you aren't doing as much as I expected you to do. Just taking pictures," she complained.
Sure. But isn't making animations part of my magic too? Isn't taking pictures a form of devotion? Of signaling to the universe what you want, what you love, what is yours, what is you?
Apparently I generated 26,606 images on my phone in 2020 alone. That's an average of 70 a day. Many of them are duplicates to create stills for animations, or drafts of animations, or multiple file types. My phone is my studio, after all. But 26,606 is still a lot. And a lot of those are photographs of my children.
Now, I'm not taking the photos for social media. I try not to share the kids' faces there or much of anything else besides my own art. I take many of the photos to share directly with loved ones and family far away. But a lot I take almost reflexively, as a means to mark and try to hold a moment.
Now that I have a second child, I feel acutely how much the little moments slip through the cracks. How much we already don't remember about D's babyhood. "We won't remember this," is something Justin and I say often to each other incredulously when something small and wonderful happens: a funny pronunciation of a word, or being led to look at something by an impossibly small hand. Maybe it's a way of simultaneously celebrating it and releasing attachment. The gesture of taking photos might be an opposite gesture, one of grasping, of capturing. Pulling out the phone to take a picture is still a celebration though: it says "This. I love this. I appreciate this."
But pulling out the phone also disrupts the very moment it is trying to capture. Does photographing it mean I get to hold on to it somehow? To keep it? Or do the photographs replace the memories, become the only memories?
I can claim that taking pictures is part of my magic, but it doesn't seem to pass muster with this four-year-old. She sees it for what it is: a separation from being with her in the present moment.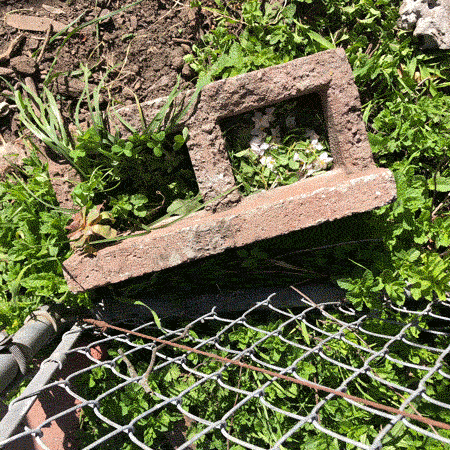 Just about any symbol set could be used as a tool to notice and sanctify connections in your life and environment. I mostly embrace my Jewish heritage and its rituals and symbols. Lately, I have also chosen color. These are not mutually exclusive, and in fact may inform each other. You could also really use almost anything: numbers, letters, cards, stars, tea leaves, bones, conversations. I wonder then whether the meaning I derive from color arises from my own associations over time or objective classifications arising from the nature of the colors themselves. Probably both.
But what happens when you switch systems of meaning entirely, using the same symbols but with different meanings?
This week is Passover, or Pesach, the Jewish holiday celebrating the passage from bondage into freedom and the perpetual struggle for collective liberation. Passover is also the Festival of Spring: at the ritual Seder meal we symbolize this by placing a green leafy vegetable on the Seder plate, often parsley. This green vegetable is called "karpas" and it has its own blessing.
So drawing Green Green this week immediately evoked Passover for me. I even made sure to include parsley in that backyard potion. But this week, and the next seven weeks, the colors are going even deeper than that.
There is a 50-day period between Passover and the next Jewish holiday of Shavuot. If Passover is about becoming free, Shavuot is about receiving the Torah, or the means to living a righteous life. These are also each agricultural holidays: two out of the three harvest festivals during the year, when Jews would take their first harvest to the Temple, the other one happening in the Fall with Sukkot.
On the second day of Passover, an offering of an "omer" of the first barley harvest was taken to the temple, where the priest would use it in a "wave offering," waving it in the six directions: north, south, east, west, up, and down. Only then could that year's barley harvest be eaten.From that day on, it is commanded to count 49 days until the 50th day of Shavuot, when Jews would bring the wheat harvest to the temple. This is called Counting the Omer. This entails, well, counting. Literally. Every night (on the Hebrew calendars, days start at sundown instead of at midnight) you say a series of blessings and you count, like so:
"Today is Day One of the Omer."
"Today is Two Days of the Omer."
On and on until:
"Today is Forty-Eight Days, which are Six Weeks and Six Days of the Omer."
"Today is Forty-Nine Days, which are Seven Weeks of the Omer."
It doesn't stop with numbers or the harvest. If Passover celebrates going from slavery to freedom, there was still so much healing for the Israelites to do before they were ready to recieve the Torah on Shavout. So these 49 days become a sort of spiritual healing program, following a 7 x7 grid of holy attributes, or sephirot in the Tree of Life of Kabbalah (Jewish mysticism). Each week has an overarching attribute, and each day pairs it with one of the other attributes, cycling in a 7 x7 grid, like so: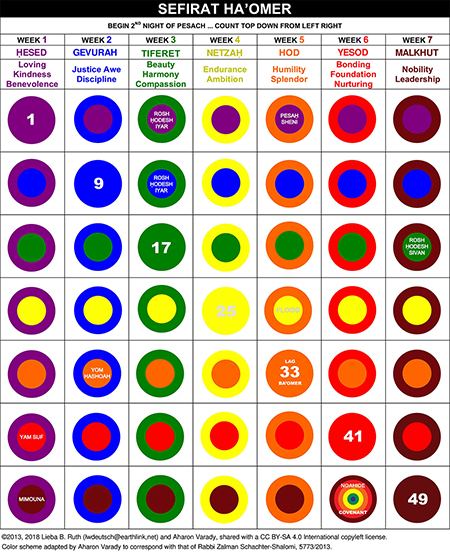 Yes, this is basically like a 49-day sprint of Rainbow Squared. Or perhaps more accurately, Rainbow Squared is like a 49-week marathon of Counting the Omer.
I'm still processing the similarities here, which are staggering. I knew about Counting the Omer, but I didn't really know about the attribute matrix, and I certainly had never seen it represented in colors. In that way, it did not consciously influence the Rainbow Squared grid, which I really conceived as a formula for artistic discipline. It is perhaps no accident though that these last five years has brought my practice closer to this Jewish practice.
So this year, for the first time, I am counting the omer. It is a commitment, but I like those. And I am not doing it alone: while each night blessings are done on my own, I am engaging biweekly with a creative cohort called "A New Gift" who is doing the same.
While I am in this 49-day process within my otherwise 49-week cycle, I'm going to think about each week's overarching attribute and how they relate to colors. These attributes are hard to translate, and every source seems to have a different take. They each also have multiple meanings. The attributes or sephirot go as follows:
Week 1: Chesed - Lovingkindness, Unconditional Love, Grace, Mercy
Week 2: Gevurah - Strength, Judgment, Boundaries
Week 3: Tiferet - Harmony, Balance, Beauty
Week 4: Netzach - Eternity, Endurance, Dedication, Ambition
Week 5: Hod - Splendor, Awe, Humility, Acceptance, Order
Week 6: Yesod - Foundation, Creativity, Bonding, Sexuality
Week 7: Malchut (Shekhinah) - Divine Presence, Physical Reality, Manifestation, Leadership
So how do colors fit into this?
There are just as many color associations as there are meanings of each of these individual sephirot. In some systems, the colors are determined one by one, and in others they follow a certain rainbow order. The grid above uses the colors determined by Rabbi Zalman Shachter-Shalomi, or Reb Zalman, the founder of the Jewish Renewal movement, as laid out in his rainbow tallit design.
In Rainbow Squared, Green Green is the very center of the grid: the middle of the journey, or perhaps the core from which all things emanate. Its significance is love, family, plants, Earth, opening your heart and living from it.
I think that Green might be a pretty good match for Chesed, the attribute for this first week of the Omer count. Green Green is where I have always located unconditional love and connection to the Earth. Chesed is also unconditional love, its full week always showing up right at the start of the festival of spring. The cycle of plant growth is connected to our ability to love unconditionally, its own kind of bursting into bloom, into what Taya Mâ Shere and Nomy Lamm call "heart expansion."
It's also no accident that love, grace, and mercy would be where we start the journey away from slavery into freedom. Slavery is an old story, but it isn't over. Here is the United States we are still living daily in the deep effects of slavery, with a long, long road of repair ahead (one step on that journey may be passing H.R. 40). And there are so many people still enslaved today around the world. Some in ways that are abhorrent and easy to renounce though hard to see like sex trafficking. Some in ways we don't often acknowledge or accept like the oppression of the many unseen people behind the creation and distribution of the goods we all think we depend on, who have no choice but to submit their lives to this cause
Chesed means seeing beyond the self, opening your heart until you can no longer tune out the suffering of others, especially when you might personally benefit from it.
Color it green, color it purple. Call it love, call it lovingkindness. Let us this year call it collective liberation, every year and every day until it's true.
That's what my Pesach potion is about.
Piece Ten: 36. Purple Red
Each week I draw a card from my Rainbow Squared deck to determine that week's colors. At the same time I also draw a Tarot card, and this week I drew the Page of Swords. In the Tarot deck I use—the Prisma Visions deck by James R. Eads—each suit of the minor arcana cards is a contiguous panorama when you lay them out start to finish. In the Page of Swords, the figure is finally vanquishing a giant bird beast that has been terrorizing the previous cards. With one casual swing of the sword, the beast bursts into butterflies. Monarch butterflies.
In Tarot, swords are the suit of the element of air, which is thought and intellect, the life of the mind. So often what we think is an insurmountable, terrible thing can be addressed by starting with the mind, dismissed like so many butterflies. And sometimes what we think is no big deal is actually a swarm.
I'd been thinking about butterflies and violence after reading a passage in the 2010 book Psychomagic: The Transformative Power of Shamanic Psychotherapy, written by the infamous artist filmmaker author healer and master of Tarot himself, Alejandro Jodorowsky. If Purple is the mind and also magic and Red is the body, then Purple Red may be the perfect color for what Jodorowsky calls "Psychomagic:" the ability to heal oneself through ritual performance. Jodorowsky describes a psychomagician as less of a shaman or doctor than an adviser in helping the patient to be their own healer through poetic acts. In Psychomagic, written in interview format, Jodorowsky describes an incident from his youth in Chile that helped him to understand the nature of the poetic act:
The poetic act allows for expressing energies that are normally repressed or asleep inside us. The unconscious act is an open door to vandalism, to violence. When the crowds erupt into violence, when the demonstration deteriorates and the people begin to set cars on fire or throw rocks, it is also about a liberation of repressed energies. For this reason, acts of violence do not merit the title poetic act.
Were you and your friends conscious of this?
We ended up being so, after observing some dangerous acts perpetrated by hot-tempered individuals. These experiences shook us up and made us question ourselves seriously. A Japanese haiku provided a key for us. A student brought the master his poem, which stated:
A butterfly:
take away the wings
and it turns into a pepper!
The master's response was immediate: "No, no; it is not like that. Let me correct your poem:"
A pepper:
add wings
and it turns into a butterfly!
The lesson here is clear: the poetic act must always be positive; it must be constructive and not destructive.
The poetic act. Using your body to conjure poetry into the physical realm, out of the mind and into real time and space. Perhaps it is in this way that poetry, art, and spirituality can intertwine as ritual. An act not to be undertaken lightly or confused for the unconscious act, otherwise the result can be literally disastrous. Don't pluck wings off of butterflies, give wings to peppers.
Anyone can perform a poetic act, deliberately setting the bounds for a ritual and even its desired effects. But I would say that what gives the poetic act its poetry is not only the author's intention but the way that life intervenes and even collaborates. The way that life presents elements and circumstances you never could have planned or anticipated.
See, I wrote the above about butterflies and Jodorowsky's book on Monday, April 5th, and spent that evening making images of a pepper and a monarch butterfly.
Then this is what happened on Tuesday, April 6th. That day was Day 9 of the Omer: Gevurah she'b'Gevurah. Strength within Strength. Justice within Justice. Blue within Blue.
I took the kids on a walk around 11am to a playground. Usually we get out the door way earlier, so everyone felt a little on edge. Or maybe I just felt a little on edge. I let E walk on his own, so the five block journey took half an hour as he examined every fallen berry. Once we finally got to the playground it was so close to lunchtime that there was no one else there, so we took our masks off. D was playing with little stacking cups in the sand as I watched E gleefully bound back and forth across a rickety bridge. Then D called out:
"Pretend that you have two babies and you are watching one of the babies and you made a perfect cake and you didn't notice that the other baby was about to ruin the perfect cake."
It was a pretty specific request, so I went along with it. I locked my eyes on E and cooed at him loudly, deliberately not looking while D dumped out a blue cup she had carefully packed with sand and fennel. "Oh noooo!" I play-acted, "My perfect cake is ruined! And I worked so hard on it!"
D laughed with glee. I wondered to myself how E must perceive the play, how he can probably tell the difference between when I am pretending to be mad and when I am really mad.
Then D asked to play the game again, where I pay attention to one baby but not to the other. So I resumed watching E on the play structure. Then I heard her right behind me: "Hey, mama!"
I turned around to look and was immediately clocked in the face with that blue cup, my mouth filled with gritty, filthy, playground sand.
Now I actually was mad. My whole body tensed, but I controlled my reaction into pent rage and stunned silence. D immediately bolted away and hid under a different structure.
She hid there for a long time. I spat clumps of sand into the bushes, finally taking a swig off the kiddie water bottle to swish and spit that out too (so much for keeping my germs isolated at the playground). Then I sat on a bench and waited in silence. Eventually D got up and ran closer to me, climbing on a ladder and artfully avoiding eye contact.
"Do you want to tell me what just happened?" I asked.
We got to the very first street corner, and that's when we saw it on the sidewalk. A butterfly. A monarch butterfly. A dying monarch butterfly, sitting there on the pavement with its tattered wings up.
We stood there transfixed for a minute. This would be a notable encounter even if I hadn't spent the night before making weird graphics about monarch butterfly peppers. And it was certainly magical for a child either way. We decided we wanted to help the butterfly, to bring it home to try to give it water or milkweed or something, or put it out of its misery, or just to examine it more closely. We looked for something like a stick to carry it on, and then I remembered the tiny cups in my backpack. I picked up the one it would fit in, the blue one, and put it in.
We walked home holding that orange butterfly in the blue cup. It kept moving, not just the wind flapping its wings but voluntary movements of its legs and head. Its body looked chewed or something. I couldn't believe this little butterfly was still alive. I couldn't believe any of it, that we were carrying it home in the blue cup, blue for Gevurah.
Gevurah is strength and justice and probably in its unchecked state what I would associate closest with violence. Not an association I had with Blue in my color work before, but one that was always there and is there for so many people, of course. Carrying a dying butterfly in the blue cup that my willful daughter had chucked at my face in some sort of demonstration of sibling resentment. Her own poetic act. Or was it an unconscious act? Don't we need violence sometimes to speak truth to power? D showed me her fierceness, and I showed her mine back, though doing it fairly. I think.
What is this metaphor? Who or what is the butterfly here? And this cup, a weapon then used as a shelter?
Is this a poetic act?
There are just so many butterfly metaphors here. They are magical beings themselves, worms that turn themselves into goo and grow wings. Faith. Transcendence. Transformation. Beauty. I saw a stupid meme recently saying something like: "Butterflies: now there are bugs for girls!" The next time I saw a butterfly I imagined what might make a butterfly scary. What if there were a plague of butterflies? In the Passover story, two of the Ten Plagues are insects: Lice and Locusts. Could you ever have enough butterflies that it would be horrifying, debilitating? How many would that have to be?

Gevurah. Float like a butterfly, sting like a bee. Wings may turn a pepper into a butterfly but only violence turns the butterfly back into a pepper, not even back into a caterpillar, but something broken. The poetic act must never be violent, must never be destructive.
It was wild to watch that butterfly die slowly. To be witness to it and then suddenly and inescapably party to it. When we got it home it had no interest in our water, of course. But there it was. I was so transfixed by the moment, I couldn't think to do anything else but take pictures. If I couldn't make it survive and I couldn't bring myself to kill it, at least I could turn it into Art. But is that an act of violence too?
I forgot how to say "butterfly" in Hebrew so I just looked it up. Are you ready? Butterfly is "par-par." Parpar. It sounds wildly close to "pepper," huh? It even sounds wildly close to pepper in Hebrew, which is "peel-pel." These words are almost identical when they are written out: פַּרְפַּר and פִּלְפֵּל
That connection floored me, but maybe it's arbitrary. Butterflies and peppers: what does it mean? I mean, maybe there are just semantic threads connecting all things if you look for them. But isn't that stunning in and of itself?
Purple stands for magic, for woo woo, so it seems Purple tries to demonstrate this by going a little extra with the synchronicities. The last Purple this year, Purple Yellow, sent me on a wild goose chase of lemon references that hasn't even ended yet. This time it's butterflies.
Is this project a poetic act then? Maybe it's poetic infrastructure, a framework for poetic acts. Or maybe I am just crazily chronicling patterns, spattering them out to anyone who will listen.
I think there is something else here though, something more about life itself as poetry. I've always talked about Life as Art, but maybe Poetry is more precise. You just have to pay attention to find the rhymes. I just have to write them down to understand them.
In this way, the act of writing itself can be a poetic act. Writing is not merely a means to create poetry, but also a way to conjure it. Something happens between the spaces of living and writing. To do both regularly is to make more poetry happen to you.
Purple is the mind and Red is the body. The two together make poetry manifest.
May our actions be just and balanced; tempered by poetry, not violence. May our collective poetic acts be a kaleidoscope and not a swarm.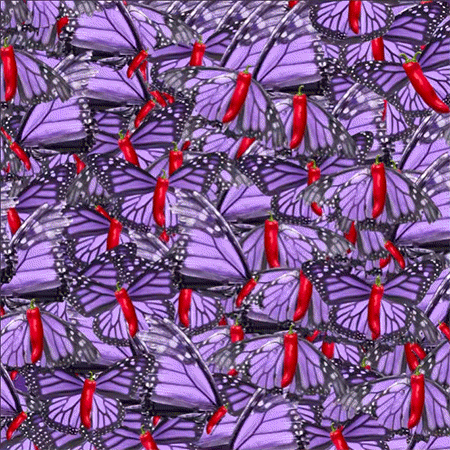 Piece Eleven: 1. Red Red
Red Red is the first color in the Rainbow Squared cycle. It always means the beginning of a cycle, the beginning of cycles. When Red Red shows up, I pay attention.
This one came at the beginning of a few other cycles for me. It came on the first day of my menstrual cycle, which is also Red. It came with the new moon, and in particular the new moon in Aries, the first new moon of the astrological year. This new moon like any new moon was also the beginning of a Hebrew month, the month of Iyar. Red Red also came the day after my first vaccine, the start of a new cycle of re-entry back into the world, or back into a world, anyway.
So maybe this is a time to start over here. To reorient the way I make these pieces, which have taken over nearly every minute of my free time, after the kids go to sleep and before they wake up and sometimes while one is napping. These pieces also consume what I think about in between. Each Rainbow Squared piece is its own little research project, its own little puzzle. And I love it. I love seeing the way the elements show up in my world and figuring out how they fit together. I even like letting myself be driven by creative obsession. I feel intensely motivated. But other things in my life are falling by the wayside, including my own sleep.
So it is perhaps time to bound my time here. I still don't know what that means and I certainly didn't do it this week, but maybe I can start to loosen my grip a little here. Bring this back to something closer to poetry, maybe more like stream of consciousness. I don't even know if that will make these shorter; it's actually the editing process that takes the most time. I am in some ways a maximalist: all the colors, all the photos, all the words. I work like a sculptor shaping a bust from a giant slab, rather than a painter building up a canvas mark by mark. But I suppose in this case I am also building the slab, sentence by sentence, frame by frame. And then editing them down again. Expansion. Contraction.
Which brings us back to Red Red. Beginning Beginning. Let's talk about the beginning of a beginning, then. The Torah begins with Genesis which begins with this sentence: "Bereishit barah elohim et ha'shamayim v'et ha'aretz."
The traditional translation is: "In the beginning God created the heavens and the earth." But the Hebrew word for "the" is "ha." Both "heavens" and "earth" have a "the" before them in the Hebrew. But "beginning" doesn't have a "the." The word "Bereishit" then could be translated into something closer to "In a beginning," not necessarily "the" beginning. It is a story afterall, and perhaps the authors of the Torah were calling it as much.
The beginning is still happening. The beginnings, so many interlocking cycles in perhaps multiple simultaneous streams of time. There is no "the" beginning.
This week I heard the Kabbalistic take on the Creation Story from Elana June Margolis, in my creative cohort for counting the Omer. I can't totally reproduce it so I won't try, but I will take some of the threads and weave it into my narrative here. And maybe even link it back to Red Red and the harmony of the universe that we are experiencing this week with Tiferet. (For more on counting the Omer, see Year 5 Green Green.)
In the beginning, in a beginning, or rather before the beginning, there was Everything. There was also Nothing. Everything was everything. No differentiation, everything a part of everything else. There wasn't even an "everything else," just everything. This Everything has since been given a name: Ein Sof, or "(There Is) No End," "The Endless One."
Eventually (what is time?) this everything had a longing, a fierce longing to create. In order to create something different from itself, the Everything had to make room. The Everything had to contract. This contraction also has a name: Tzimtzum. The Everything took its divine light and shrunk it infinitesimally. Then it exploded, shattered, divine light breaking into so many particles and waves and the spaces between those particles and waves, expanding again, infinitely. An expansion that is still taking place. A constant becoming.
The Everything is still in the process of differentiating itself into these divine sparks, turning itself into everything around you. Turning itself into you, in every moment.
Still, the sages say that these divine sparks are scattered, and it is up to us to bring them back together. But what if the sparks aren't actually separate, and never were?
What if those sparks, like the light they are, were more like a spectrum? And all of us one flowing mass of particles with varying amounts of space between, all different points on that spectrum?
Humans have given names to the light we can see, called them "colors." Isaac Newton canonized them as the Visible Spectrum, differentiating and designating bands of wavelengths as Red, Orange, Yellow, Green, Blue, Indigo, and Violet. But it's really a continuum.
And even that visible spectrum is just one part of the whole Electromagnetic Spectrum. What we call "color" sits within a tight range of 740-400nm in wavelength, just 300nm when the full electromagnetic spectrum spans infinitely in both directions. There are longer wavelengths before "red," before infrared, what we experience as heat. There are shorter wavelengths after "violet," after ultraviolet, what emanates from the sun. And beyond. You've probably seen a chart like this, the waves we recognize as radio waves, television waves, cellular waves, internet waves, microwaves, thermal waves, visible light, sunshine, x-rays, gamma rays. All waves and particles pulsing around us, through us.
In this way there is light all around us, all the time, some it visible to us, some of it not. Light and information. So much information and always increasingly more, particles and waves taking up space in the otherwise mostly empty air. More than your eyes can sense. But not as much more than some other animals can sense.
Some migratory animals, including birds, fish, butterflies, and bees, seem to have a sixth sense that allows them to distinguish north from south. This sense may be a sort of magnetic vision based on a protein found in the retina called cryptochrome. "Crypto" as in secret and "chrome" as in color. This means that north and south actually may look different to these animals. And the electromagnetic waves of human activity might alter how these animals perceive them.
What other colors are we bathing in all the time? If other animals use senses we don't have to navigate, how could they not sense this giant web of information we're laying across the earth, across the sky, across the heavens and the earth? And what might it be doing to our own bodies?
The Cloud as we call it is also part of the electromagnetic spectrum. In this way, The Cloud is also a rainbow. Just like everything. Just like you. You are the bird. You are the cloud. You are The Cloud.
All waves, all particles. Reflecting light, absorbing light, emitting light. Points on a spectrum.
This is Week Three of the Omer: the sephirah of Tiferet. Tiferet is harmony, balance, beauty. The perfection of the cosmos, of the Everything. Tiferet is the boundless love of Chesed (the sephirah of Week One) coming up against the boundaries of Gevurah (the sephirah of Week Two), both shaping each other into the world we see.
Tiferet is Green, which is Red's complement. Green is also what Red looks like to some human eyes that we call "colorblind," including all three of my brothers and what I suspect might be my toddler son.
Mapping the sephirot to the body, Tiferet is the heart, sitting underneath and between Chesed and Gevurah. The harmony of the universe is the very heart pumping life through it, pumping blood through it. Red blood. Red, red blood.
Maybe in the beginning, in a beginning, this first contraction of the universe was not unlike a uterine contraction. God's own uterus squeezing to let the universe flow out, not so much as birth but as blood. God's menstruation, the destruction that makes future creation possible.
There is more than one kind of bloodshed though.
Some blood we give and give freely, give cyclically, give as a sign of life.
Some blood is taken. Taken by guns that pierce the boundaries of skin to draw it. Taken by police claiming to make fatal mistakes with Black lives, or shooting children who are following their directions. Taken by crazed men unleashing automatic weapons on masses of people.
Guns are the ultimate tool of separation.
We are all connected, we are all one. Sure. But our boundaries of flesh keep our lives intact, as brief as they are.
This cycle of gun violence keeps starting and restarting again and again, shooting after shooting.
This is not the Red Red I wanted to end on here. This is not the Red Red we have asked for.
Please, Everything, Nothing, God: make these cycles of shootings stop.
If only that worked.