I don't wanna. I don't wanna. I don't wanna.
I have been dragging my heels on this second one, not able to bring myself to just sit down and make. I do have an excuse: we moved this week. Moving is labor-intensive and disorienting enough, then add in two small children and a pandemic, and well, there is not a lot of energy left over for anything else.
Everywhere I look there is something to do, something to unpack, something to organize. Everywhere I look there is something new to notice and study, from the uneven paint lines on the moulding to the neighbor's yard out the window. My brain is working overtime, humming like an overtasked hard drive.
So it is no wonder that at the end of each day over these last five days, I am spent. After I close the door to the kid's room at night is when it should be my time to work. But three nights in a row I just couldn't do it. I'm just plain tired.
I could cut myself some slack, but here we are only on Piece Number Two of this new year. It is always harder at the beginning when I don't quite know what I am doing and don't have momentum yet. It could cut myself some slack and skip a week, but as much as I don't wanna make this week, I also don't wanna not have made anything this week. What is that impulse? Is it constructive or a compulsion? Not that those have to be mutually exclusive.
I finally mustered the will to start something at 10pm last night. In bed. I fell asleep while I was doing it. Those blue smudges at the end are my fingers slackening mid-stroke as I lose consciousness. That's what we get this week: the genuine article. This animation is my second one using Procreate. Maybe I will use this technique all year, maybe not. If I do, I certainly hope to see these animations improve. But this kind of crude communication style is appropriate for Blue Red anyway.
Blue Red is the beginning of the Blue cycle, the cycle of Communication and Expression. And like all cycles, it begins with the body, with Red. So even while I am dragging my heels at getting to work on this self-expression project, I am hitting the wall of my body. Again and again.
Piece Three: 34. Blue Purple
Well, Blue Purple might be Mercury Retrograde itself. Blue is Communication, and Purple is Intuition, Wisdom, Awareness: the color of all things "Woo Woo." Blue Purple is Communication Woo Woo. At its best, Communication Woo Woo could be prayer or telepathy or something mystical like that. At its most challenging, Communication Woo Woo could be truly bad things like spiritual bypassing or more neutral things like planetary interference from Mercury Retrograde, the astrological excuse for communication breakdowns.
In terms of the orbit of celestial bodies, I mostly follow the moon. It is the easiest one to track with your own eyes, making it a basis for so many calendars, the Hebrew calendar included. Though I know I was an adult before I learned that you can tell what phase the moon is in just by looking at it. The moon both waxes and wanes from right to left, so the side the crescent or gibbous is leaning isn't arbitrary. You can use its position in the sky to disambiguate because the time each moon phase rises and sets is pretty consistent too, relative to the sun. Every full moon rises from the east at sunset and sets in the west at sunrise, and every new moon rises at sunrise and sets at sunset (with some variations depending on how close you live to the poles). Understanding the shape of the moon and when it is visible means you can watch the moon make changes.
Mercury though. I don't think I could even tell you where Mercury is in the sky. I do know it's the planet closest to the sun, and that apparently because of the difference in speed of Mercury's orbit and Earth's orbit that sometimes it looks like Mercury is going backwards, hence "retrograde." I now also know the story of where Mercury shows up in my own astrological chart: Mercury was rising in the sky just ahead of the sun in that August pre-dawn that I was born, so it is in my first house, Leo, which is ruled by the sun. I know that Mercury is also the planet that rules the sign my sun is in, Virgo. Mercury is the astrological planet of Communication, named for Mercury the Roman messenger god, or Hermes in the Greek pantheon. It seems communication is pretty central to what I'm here on Earth to do, so that tracks with my chart.
I feel pretty cool knowing that, but I don't know how I feel about astrology overall. I use astrology much the same way I use this Rainbow Squared system: as a tool to notice correspondences and generate narrative interpretation. So when communication feels out of whack and the internet tells me that Mercury is in retrograde, it seems to make sense.
And yes, communication is out of whack right now. Maybe that's why I'm sharing 2000 words this week, and have written almost double that. If communication were easier right now, this would be a lot shorter.
"Good luck with the juggling act," a friend said as we were hanging up the phone last week. I had picked up her call in the midst of communication chaos:
Three days into a quarantine after a hike where someone didn't tell us they had been exposed to coronavirus until that night when their test came back positive.
Forty-five minutes into a call with both Blue Shield and Covered California, whom I had called to get my new health insurance ID number and found out instead that I had been dropped altogether without so much as a notification.
Nursing a baby in front of the computer while clutching the clean diaper I was trying to change him into after I grabbed him from the end of his nap while on hold and then had to rush back to the screen.
And somehow after hanging up with Blue Shield but still nursing the baby, continuing to scroll through applications to the Awesome Foundation for our monthly meeting that night, which is the task I was trying to complete when I sat down in front of the computer during the baby's nap in the first place.
Maybe it would have been practical not to answer the phone in this moment, but when I saw that it was Rachel calling I wanted to pick up. Because she is my friend and I love her, and also in retrospect maybe because I needed a witness to this maternal multitasking feat, this "juggling act."
"Good luck with the juggling act." I laughed when she said it because it felt true. Then the phrase rang in my head for a while afterwards, expanding and distorting over time. Good luck with the juggling act. The juggling act. Yes, everyday does feel like a goddamn circus. But do I want to be juggling? Is this the circus act I am choosing, the one where I dazzle my audience by doing so many things at a time and none of them well? Here I am, a clown, exaggerated emotions painted on my face, leaping then lurching from act to act until they all blend together, picking up toys and text messages and children and their feelings and my feelings and dishes and bills and obligations and animations. Please gasp as I swirl them all in mid-air, and laugh when I drop them! With me, though, not at me. Please.
There are times I do literally identify as a clown. I have a persona devoted to it in fact. And this new moon we just passed marks the start of the Hebrew month Adar, the month of joy and dressing up, the month of the clown. But not all jugglers are clowns. Someone showed me an image once of the ancient Canaanite goddess Asherah, a goddess that many early Jews worshipped long into their new experiment in monotheism. Asherah is often depicted as a tree, and in this image Asherah was a tree and a mother, her many dancing branches holding all the things that mothers hold at once. Which is to say that not all jugglers are clowns. Though not all clowns are silly, anyway.
But how much is juggling a super power of motherhood, and how much of it is self-perpetuated overkill? Is there something I could put down? How much of it do I perform for my own sense of self-worth and validation? Is it a professional hangover of some kind to continue to glorify busy-ness even outside of a business context? Or is it just real? Even in my moments of anxiety, I do seem to like it, or get something out of it at least. So what is that like for the people close to me? Is it something that they are supposed to console me about or something that they are supposed to cheer me on for?
After hanging up with Rachel and finally changing E's diaper, I found D playing by herself and so very eager to play with me. She wanted to pretend to make a birth movie, a movie about people giving birth. I was obviously charmed by this idea, but it was late in the day so I suggested we go on a quick walk while we still had the chance. It would have been our first time leaving the house in three days.
So she screamed at me, deeply disappointed to be thwarted from her game, especially after being ignored for the last hour. She screamed pretty loudly. I didn't have the energy to argue. In fact, I didn't have the energy to engage at all. I had reached my limit. I left the room and retreated to the rocking chair in their tiny bedroom, somewhere I could be within ear shot but out of the emotional splash radius. D blessedly didn't follow me. I sat.
Eventually E wandered in, happy to see me, thinking that me hiding my face in my shirt was a version of peekaboo. "Mama!" he pointed and laughed, then played next to me, occasionally chatting with me one word or sound at a time in his sweet baby voice. I smiled at him and echoed his words, but I couldn't bring myself to leave that rocking chair. I couldn't really move my body. I couldn't find a way to unravel my knot of thoughts, each tangling in another and then another before I could even finish it.
In that chair, I started imagining making a Blue Purple sculpture: a writhing, tangled mass of blue and purple ropes and strings that I knot and wrestle into each other. I pictured this for a while, then realized with a start that I had already made it. A miniature version of it anyway. It is the remnants of the curtains I sewed the previous week that were hanging right next to me as I sat in this rocking chair. I always take my scraps of unusable sewing bits and wad them up into a ball as tiny soft sculptures. This one had a strip of purple fabric I ripped off the inner curtain where one piece was too long, and an entire bobbin of blue thread I had to unwind because it kept clogging the sewing machine. It also had the loose threads from the outer curtain's glow-in-the-dark constellation fabric. The whole thing was blue and purple before I even knew that would be the next week's colors.
Sewing curtains is part of the juggling act too, right? Such a sweetly domestic act, one I took on with almost ritual importance, selecting the (awesome) fabric before we moved and sewing it even before many of our boxes were unpacked. It was a way to nest, to energetically establish ourselves here in this house even if we don't know how long we'll be staying. D even helped me press the foot pedals on the sewing machine, though it didn't hold her interest for long. Granted, in the other rooms I just threw some loose fabric over a tension rod, but somehow bringing the sunlight in and out of the kids' room felt like something to do right.
I sat in that rocking chair next to those curtains still trapped in my thoughts, now with the added track of the sculpture I had accidentally already made, thinking about how to animate it. I was also thinking about wanting to write this all down, this knot of thoughts, feeling the throbbing urge to write that I knew I wouldn't be able to act on until the children were asleep when I would already be too spent. So I sat there dictating text messages to myself from my watch, like:
"I don't even know if I'm experiencing daily life anymore or if I'm just thinking about how to interpret and document it"
"This is what self-care looks like in this moment. Hiding out in a rocking chair in the kids room while the toddler walks in and out and the four-year-old makes a film about birth"
Even in that moment of total overwhelm, somehow I just wanted to make. And yes, that absolutely contributes to the seeming chaos in my daily life, of trying to pull it all off. But if Blue Purple is Communication Woo Woo, it is also communicating with my intuition, and man I just have to keep going. I want to keep going. I want to juggle. But that doesn't mean it needs to be agonizing.
Another thought kept popping up in that chair: "The way to fix this is to get up at 5am everyday to write." And every time it popped up, I thought, wait, is that a healthy reaction to being overwhelmed? To try to take on more? But the more I thought it, the more practical it sounded. Not so much adding another ball to the juggling act as giving myself another arm.
I'm trying it. I've been at the computer writing before 6am four out of the last five days. Not totally undisrupted by demands for attention and milk, but mostly blessedly quiet. It is almost 8am and I can hear Justin doing breakfast. And some shouting, but only a little. Maybe I don't need to be there every moment. There are some windows of time where I can focus on one thing. It will take discipline though. Something that is hard to maintain in this world ambiguously run by the orbiting bodies of planets and children. But not impossible.
What are the ways communication is breaking down for you? What are the ways it is really working? Where are you hearing and listening to your intuition?
Piece Four: 33. Blue Blue
Blue, blue, electric blue that's the colour of my room where I will live. Blue, blue.
That's the line that popped into my head when I drew this week's card, Blue Blue. It's my third Blue in a row. I swear I'm shuffling. It's almost as if after the last two, this card came along to say: "No, really. Blue. Blue BLUE. It's Blue time." Okay. I'm paying attention.
Pale blinds drawn all day. Nothing to do, nothing to say. Blue, blue.
I had never thought about David Bowie's song "Sound and Vision" in the context of quarantine. What it means to be living in one room, day in day out. I don't even know what color (or colour) I would call this room I am in. Peachy beige? And I suppose I'm not really in this room all day because we are assuming at this point that everyone in this house also has COVID, though gratefully (blessedly) three out of four of us are asymptomatic. And the symptoms I do have are very mild, considering. Even so, when the weekend rolled around I finally claimed the opportunity to fucking rest, breathing freely in one room without a mask. So I laid in bed in that beige room trying to heal, maybe not totally unlike Bowie attempting to sober while writing that song.
I will sit right down, waiting for the gift of sound and vision.
One of my very first photo animations I set to "Sound and Vision." It was technically part of my final project in a Color Theory class. I haven't thought about this video in a long time, but it popped back into my head along with Blue Blue and that song. The more I thought about it, the more I realized that it wasn't that far off from what I am doing now. Both in technique and in inquiry. Sure, the genesis was a little different: I'm remembering now that my stop-motion practice emerged from being stoned and taking far too many photos on my digital camera. But it remains for me a different way of connecting to and capturing a moment. What I do now is perhaps more intentional, but still in the spirit of discovery.
This "Sound and Vision" video was made before I would have (or could have?) easily shared such things on the internet. But I scoured a hard drive, and just as I was about to give up, I found it, along with another video I made at the same time. For both, I had taken all of my (very colorful) clothes and laid them out on my bed in rainbow order. I was probably stoned when I did that too. I followed colorful objects with my camera, looking for moments that matched, assigning significance when they did. I was 19 years old, which I know quickly was fifteen years ago because my sister is 19 right now. And somehow here I am again (or still) making stop-motions in my environment, searching for layers of meaning in colorful objects. The persistence of this practice caught me off guard. What am I looking for here? Whose breadcrumbs am I following?
I will sing, waiting for the gift of sound and vision.
So now, fifteen years later, here are all the blue things in our house. Not literally all of them because it was a lot of effort just to gather these ones, and certainly not all of the blue things I own because many are in boxes or in storage. But a lot of blue things. I arranged them and photographed them earlier in the week when I should have been napping while the baby was napping while my mom read to D over FaceTime. It felt like a natural thing to do: if I am constantly picking up and sorting toys and dishes and clothes anyway, why not make an installation out of it? So different from that clothing rainbow long ago, mostly in that my possessions have now grown to include a family. A family's.
So Blue Blue: what am I trying to communicate and what is communicating through me? With a double color, it goes both ways. This week I am mostly desperately grateful not to have communicated viruses to anyone else. But in a longitudinal sense, as an artist, what am I communicating over time? Does everyone have something like this, some thing trying to make itself known through them?
Drifting into my solitude, over my head.
Most of the time I've spent isolating and resting in this blue blue peachy beige room has been spent reading (reading!) sci-fi, specifically N.K. Jemisin's Broken Earth Trilogy. Her characters listen to and through an angry Earth. Are colors another way that Earth speaks, and that humans speak to Earth? Color is just one tight band of electromagnetic frequencies when the full spectrum is so much more than what is visible. It's all information, from radio waves to gamma rays. So what is so special about this particular small set of wavelengths? Is it the color waves that are special or the fact that our eyes are tuned to them? Our human eyes are tuned not just for these colors but for this particular planet, this blue blue planet with its skies and oceans.
There is a huge environmental and even human cost to our colorful objects. The mass-produced ones and their untold (and told) toxicities. But even ones dug from the Earth, the crystals and certainly the gem stones. Hell, even the fresh flowers grown and chilled and flown all over the world. The colorful objects I use to adorn myself and my kids and our environment are themselves symbols of how removed I am from their production and their impact. I am terrified of the power we have in this moment in history to conjure and create pigments. And yet I can't pull myself away. So I collect. And I photograph.
Don't you wonder sometimes about sound and vision?
What are you here to communicate, and what is communicating through you because you are here?
Blue Blue.
Piece Five: 43. Black White Red
I felt a pang of recognition as I pulled this card, Black White Red: Transcending the Body. I guess that's what I've been trying to do lately, push myself past the limits of my own energy. I know I am not alone. It's strange that it's not more difficult, actually, or that my body wouldn't speak up more loudly to tell me to pay attention. Maybe it's just easy to ignore. Maybe we are reinforced to ignore it by a capitalist culture that demands it, where endless grinding is easier than taking care of yourself. Where for many people, taking care of themselves stands in the way of their subsistence.
The Black White series is about interconnectedness, and as the seventh and final color set, its messages are always on a collective, societal, or global scale. Black White is also the ultimate lesson of its accompanying color, which in this case is Red. Red is the body, survival, life.
Are we not currently pushing past the limit of the collective human body, let alone the Earth body? How many bodies are exploited to create luxury and power for the (very) few? How often have colors like Black and white and even red been invoked in this exploitation, as a twisted tool to determine whose bodies are expendable? How often is it people of color and Indigenous people who are stewards of the Earth's body, using their own bodies and their own lives to defend it?
Right now water protectors are putting their bodies on the line to prevent construction of the Enbridge Line 3 pipeline on Ojibwe land in Northern Minnesota. This pipeline is a violation of several treaties, crossing no less than 200 water bodies and 800 wetlands. Line 3 is technically an update to an existing pipeline carrying tar sands oil from Canada to its terminus in Wisconsin at the headwaters of the Mississippi river. Enbridge claims these updates are necessary for safety, but the plan is also expanding the pipeline's capacity to transport nearly 800,000 barrels of oil a day. As Ojibwe attorney and activist Tara Houska said: "Same risks, same climate impacts, same violations of treaty rights" (Public News Service).
From the Stop Line 3 official website:
"All pipelines spill. Line 3 isn't about safe transportation of a necessary product, it's about expansion of a dying tar sands industry. Line 3 would contribute more to climate change than Minnesota's entire economy. Minnesota's own Department of Commerce found our local market does not need Line 3 oil. We need to decommission the old Line 3 and justly transition to a renewable, sustainable economy. Line 3 would violate the treaty rights of Anishinaabe peoples and nations in its path—wild rice is a centerpiece of Anishinaabe culture, it grows in numerous watersheds Line 3 seeks to cross. It's well-past time to end the legacy of theft from and destruction of indigenous peoples and territories."
Tar sands are possibly the dirtiest fossil fuels on the planet. Their extraction decimates Canadian boreal forests, their transportation through pipelines puts waterways and lifeways at existential risk, and actually using them puts more and more carbon in the air. If the impact on the land, water, and people isn't enough, what about the climate? We should not be building new pipelines at all, we should be decommissioning them.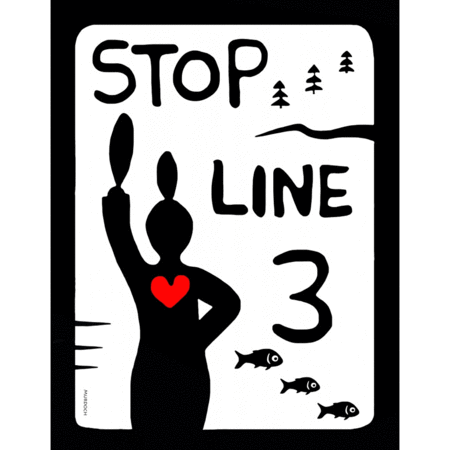 Black White Red has different cultural meanings around the world, and certainly different meanings in different Indigenous cultures that I am not privy to. I am seeing though that Black White Red is showing up here not only symbolically but also very physically. These stirring black and white and red prints are the work of the Onaman Collective, specifically by its founding artists Isaac Murdoch and Christi Belcourt. They've shared the PDFs and JPEGs of their Protest Banner Art for free online, to download and use in support of water and land protection.
There are actions happening around the country. Print out these banners and put them in your window, and best yet screen print more to hand out. Personally, I can't see multiple image files without thinking "animation," so I made one. The revolution will not be GIFed, but sometimes GIFs help. You can share this one too, making sure to credit the artists.
Okay, there's more:
This past weekend, not knowing that I was writing about this, two dear friends gifted D and E the book We Are Water Protectors by Ojibwe author Carole Lindstrom and Tlingit illustrator Michaela Goade. This lushly watercolored childrens' book tells the story of an Ojibwe girl fighting against the Dakota Access Pipeline. In the author's note, Lindstrom says:
"There is an Anishinaabe prophecy that speaks of two roads: One road is a natural path. It leads to global peace and unity that embraces the sacred relationship between humanity and all living things. On this path, all orders of creation—mineral, plant, animal, human—are relatives deserving of respect and care. We are instructed to use our voices to speak for those who have not been given a voice. On this path there is no 'black snake.' The Earth is not damaged, and the grass grows lush and green.
This prophecy, known as the Seven Fires Prophecy, says that if humans choose the natural path, then we will proceed toward peace and unity and a healthy Mother Earth.
The other road is described as a hard-surfaced highway where everything moves faster and faster, at an unimaginable speed. In this path, humans embrace technological advancement with little regard for Mother Earth.
Many Native Nations believe this path is symbolized by the oil pipeline, the 'black snakes' that crisscross our lands, bringing destruction and harm. This path leads to a damaged Earth."
Honestly, when I read Lindstrom's author's note my first thought was: it's too late. The black snake is here in so very many forms, not just oil. The speed on this highway is exponential, and there is no way that the dizzying momentum of technological advancement and perceived material comfort will let us exit. There is no way that financial power will let us exit. What other reason is there to build more pipelines besides profits and power? They can cloak this in the promise of jobs, but those jobs are temporary. When the pipeline is completed those workers will still be struggling and Enbridge will still be thriving. Switching to a natural path that embraces unity with the Earth will take no less than upending whole systems. Stopping this pipeline will chop off the head of one black snake.
But that is how the transformation has already begun. Holding up the dangling body of that snake as well as the waterways and lifeways thriving without is the way to illuminate the new path, or a very old path. Centering Indigenous people and their wisdom and leadership is the way to get off that highway, the only way. Tara Houska says that Indigenous people make up 5% of the world's population but steward 80% of the world's biodiversity. Giving Indigenous peoples the power and authority to take care of their land (which is really all of it) is the only hope for humanity, or humanity in any form that we recognize.
Black White Red reminds us that the body is real, that all bodies are connected, that the Earth is a body, and that Water is Life. That all three of those colors have been historically used as tools of exploitation to warp what is real about the body and the collective human body, and that this goes hand in hand with the exploitation of the Earth. That centering the leadership of Indigenous people, of Black people, of people of color is the way to live in balance with the Earth. Again, or for the first time at this massive scale.
Here is more about the effort to Stop Line 3, and links to support their efforts. Contribute if you can.