Becoming a parent—and specifically a mother—was something I had always feared would irrevocably alter my identity. In a bad way. As if not having time to make art would make me not an artist, or as if somehow my work would be less "relevant." When I found out I was pregnant, this fear gnawed at me until I turned it into a personal challenge: if I couldn't find time to make, perhaps I could make time to make. What I hadn't figured was how making that time would itself be art.
It started with One Tiny Painting a Day, Seven Days a Week for Seven Weeks. From Week 13 to 20 of my first child's life, I painted a 3x3 inch watercolor in a different color for each day of the week. I painted when I could: while she was sleeping, or playing next to me, or even once or twice while breastfeeding. As a conceptual artist I don't really consider myself a painter. So it surprised me that after completing those 49 paintings, I felt affirmed. The quality of each piece didn't matter to me as much as the fact of having made them, a durational performance piece.
Once she was less inert and I went back to work, I continued this newfound practice by adjusting the scope: weekly instead of daily compositions, each with a foreground and background color determined by a 7x7 rainbow grid: Rainbow Squared, what you see unfolding here today. For the first year, I stuck with watercolors for their relative ease of set-up and clean-up. Then I started making stop-motion animations again, and suddenly this exercise truly felt like an art practice, like my art practice. In addition to the color formula, I gave myself one major constraint by design and by necessity: I used only my phone as the means to capture and edit the images. As my kids got older, I started using my computer for a more full range of editing capabilities, ramping up to the range of images you see now.
Producing art as a parent comes down to having a formula, a plan. This structure forces me to make time to make. It eliminates the guesswork so I can swing into action at a moment's notice, eking out full bodies of work bit by bit in the time I can cobble together between everything else.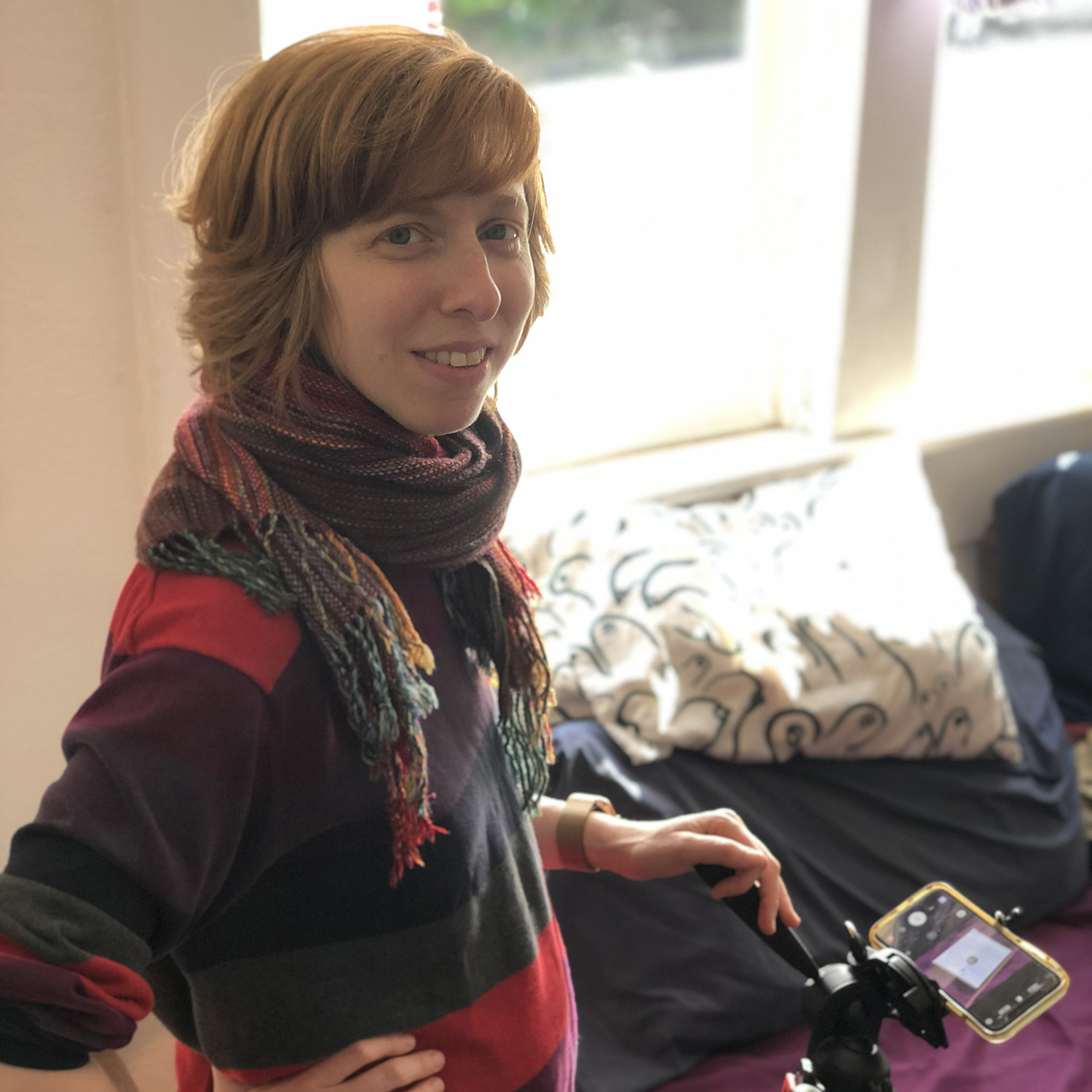 And yet, why? What is so important about making? Is it just to bolster my identity as an artist, having a product to point to so I can tell myself a story about who I am?
That is where this project has turned into something I couldn't have anticipated: artifacts of devotion to an artistic and spiritual practice. My making is a ritual to mark and sanctify cycles of time, a practice deeply informed by my Jewish heritage. Using this rainbow grid as a lens, I capture, honor, and reckon with otherwise fleeting moments, lifting and linking them in a magical narrative system. What emerges could be called colormancy, in which colors can be used as symbols for personal divination. I am learning this divination system as it unfolds, and sharing that process of inquiry, discovery, and wonder in real time.
I've now used this formula for five complete years, five sets of 49 pieces following a rainbow grid. In 2022 I took a break from weekly making, creating and sharing monthly essays instead. Now in 2023, I've started another cycle of 49 pieces, this time more deliberately creating a divination deck as well as a guide for others to create their own. Click here to read past pieces, or subscribe to receive each piece as it emerges.
The ways that I relate to this project are always constantly shifting. Here is a non-exhaustive list of how I have thought about Rainbow Squared:
🟥🟥 An ongoing documentation of the durational performance of making.
🟥🟧 A modular art practice to fit in the cracks of daily life.
🟥🟨 A formula to create a body of work through consistent small efforts.
🟥🟩 A way to make art when I thought there was no way I would make art again.
🟥🟦 A lens to explore artistic and caregiving labor, and how they intertwine.
🟥🟪 A lens to explore pretty much anything that might be part of my personal or societal narrative.
🟥🔲 A reckoning with my smartphone, what it means to constantly carry around a tiny camera and computer.
🟧🟥 A spiritual practice sanctifying cycles of time.
🟧🟧 A spiritual practice sanctifying the mundane.
🟧🟨 A spiritual and artistic fitness regime, to show up and be accountable to the work.
🟧🟩 A developing divination system and colormancy symbol set.
🟧🟦 A personal invitation for synchronicity and magic.
🟧🟪 An open source formula for an artistic exercise.
🟧🔲 An open source formula for a personalized divination deck.
🟨🟥 An open source formula for a future massively multiplayer collaboration.
🟨🟧 An exploration of the hypothesis that life is a game. What is your next move?
🟨🟨 An exploration of the hypothesis that life is art.
🟨🟩 A space to play. To play is to pray.
ABOUT ILYSE IRIS
ilyse iris magy (she/they) is an interdisciplinary performance artist whose work positions daily life as a site of creation, documenting and engineering experiences that interrogate and elevate the ordinary. ilyse's social practice engages the would-be audience as co-creators through playful public interventions and participatory events, while her personal practice documents and expands artmaking as performance itself.
Central to ilyse's work and this project is a commitment to continuous inquiry and wonder. ilyse crafts ritual and text to sanctify cycles of time, a practice deeply informed by her Jewish background and identity. By capturing, honoring, and reckoning with otherwise fleeting moments and discarded objects, ilyse lifts and links them as symbols in a magical narrative system.
See more of ilyse's art work and professional work, and subscribe to get essays and animations in your inbox.